Multi-region smartphone apps help cities gather bike data
Posted on March 7, 2017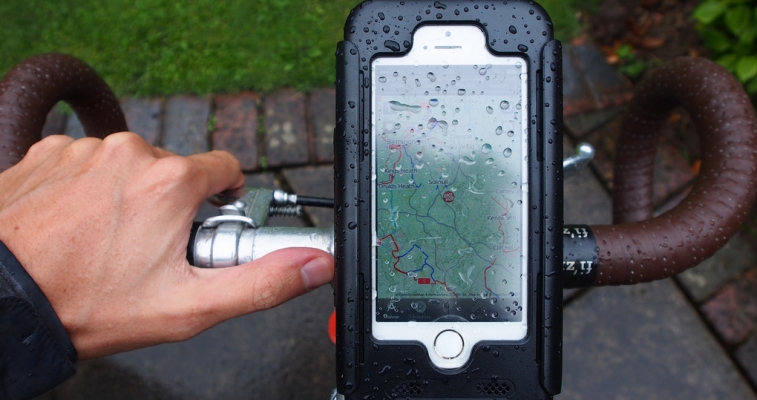 A new NITC report from the University of South Florida makes it easier than ever for cities to collect useful bike data.
Cities like Portland, Oregon, Atlanta and San Francisco have started using smartphone apps to learn how people are using their bicycle infrastructure. The data can help planners decide what designs or upgrades are needed for the bicycle network.
The NITC project Rapidly Expanding Mobile Apps for Crowd-sourcing Bike Data to New Cities takes this idea a step further by creating a proof-of-concept multi-region architecture that would allow cities to share the same set of mobile apps, rather than each city launching its own.
This would significantly reduce the cost of deploying the apps.
Sean Barbeau of USF's Center for Urban Transportation Research (CUTR) led the team in developing the open-source software that allows existing apps to communicate with regional servers.
With it, rather than each city having to modify and deploy their own iOS or Android app, all that a city would need to do is set up a server specific to their geographic area.
Having local cycling data readily available can improve travel demand models.
In 2010 San Francisco created its open-source app, Cycle Tracks, and used data collected from the app in the SF-CHAMP travel demand model.
Atlanta, Georgia in 2014 used the open-source software from the Cycle Tracks app and modified it to create Cycle Atlanta. ORCycle, Portland's app, was also based on the Cycle Tracks software.
The source code used by Barbeau's team as a basis for this project came from Cycle Atlanta.
The researchers launched a new test version of Cycle Atlanta, modified to support multiple regions, and deployed it to a server at USF in Tampa to test the multiregion design.
The app had no trouble correctly identifying the nearest server and recording trip data for each city.
Bike data crowd-sourcing mobile apps like this, deployed by cities, have some advantages over other bicyclist GPS data sources, such as datasets sold by Strava or emerging commercial apps like Ride Report.
For example, unlike Cycle Atlanta, Strava does not show a user's whole path from origin to destination—only bike trip counts on road segments.
Additionally, Strava users overall tend to be more experienced cyclists, while users of apps like Cycle Atlanta exhibit a strong preference for bike paths, cycle tracks, and low-speed roads—more welcoming environments that attract new bike commuters.
The ability to collect detailed data for these types of cyclists will allow cities to concentrate on serving the average commuter and continuing to grow their cycling population, without the added time and cost of developing and launching its own version of the app.
Researchers recommend that future work in this area should focus on developing a brand identity of these multi-region apps, including a possible partnership with the organizations that have deployed the existing apps (Georgia Tech for Cycle Atlanta, San Francisco County Transportation Authority for Cycle Tracks) to further test and release the multi-region improvements as updates to their existing apps.
To read more about this research, visit the project page or download the final report.
Share this: