New Chicago Transportation Department head will bring lessons from Oregon trip
Posted on April 20, 2011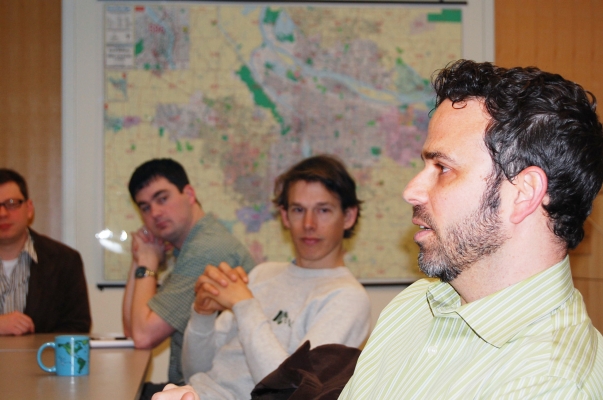 When Gabe Klein starts his new job as commissioner of the Chicago Department of Transportation, the lessons of Oregon's transportation system will be fresh in his mind. Klein, the former director of the District (of Columbia) Department of Transportation, visited OTREC programs and student groups over several packed days in Oregon.
Klein started his tour April 6 in Eugene as an expert in residence with the Sustainable Cities Initiative and LiveMove student group at the University of Oregon. He worked his way up the Willamette Valley with meetings and presentations in Salem and Portland.
On bicycle, Klein toured Eugene's off-street paths, including pedestrian and bicycle bridges, and the street that will carry the area's first cycle track.
He met with city and Lane Transit District officials before touring the EmX bus rapid transit system.
In lectures in Eugene and Portland, Klein discussed the future of transportation, lauding the movement to redesign cities for walkability instead of drivability. (Watch video of the presentation here.) Klein has worked to change people's relationships with vehicles, both in D.C., where he launched the Capital Bikeshare program, and previously with ZipCar.
"You don't need to make a capital investment in transportation anymore," Klein said. Since the launch of Capital Bikeshare, and with expansions of bus and streetcar service, the number of auto registrations in D.C. has started to drop, he said.
Calling himself "just a dude with a business degree … and a lot of motivation," Klein stressed the value of bringing an entrepreneurial spirit to government.
Leaders shouldn't fear making public mistakes and should work to get the public behind their vision using the latest communication tools.
On April 8 at Portland State University, Klein met with the Students in Transportation Engineering and Planning group, discussing the type of innovative transportation thinkers he likes to surround himself with at work. Over lunch, he shared ideas with local transportation entrepreneurs.
Klein capped off his visit with a presentation on the Capital Bikeshare program. Washington has had a bike-sharing program for years, although the 2010 launch of Capital Bikeshare expanded the number of bicycles and stations dramatically.
From 2000 to 2009, bicycle commuting in the district rose 86 percent, Klein said. The red Capital Bikeshare bikes are becoming ubiquitous, with more system expansions in the works.
The program, operated by Alta Bicycle Share, stands to turn a profit by its fourth year, Klein said. Unlike bicycle-sharing systems in other North American cities, Capital Bikeshare operates all year. "If we're going to switch from (bicycling) being a secondary or tertiary to a primary mode of transportation, you have to be able to cycle in all weather," Klein said.
Much of the innovation Klein sees in transportation comes from cities, he said. Having considered jobs with state or federal agencies, Klein returned to city government after deciding that's where he could do the most the quickest.
His efforts in D.C. continue to pay off even after he left public office there. "When I walk around D.C. and I see the streetcar tracks going in, I see people on the bike-share bikes and the circulator bus expansion, all those things were hard—and, politically, just brutal," Klein said.
"But there's nothing more rewarding than that stuff, when you actually get it done."
Share this: