Oregon Tech students awarded transportation scholarships
Posted on December 4, 2015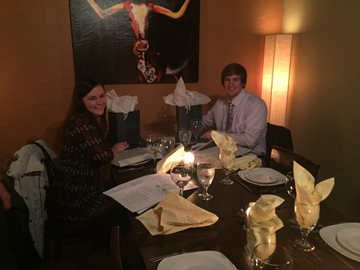 Oregon Tech students Danit Hubbell and Jake Murray have been awarded the 2015 Oregon Tech Douglas P. Daniels/Coral Sales Company Scholarships.
Hubbell is a senior undergraduate expecting to graduate with a B.S. in March 2016. She is currently the President of the OIT ITE Student Chapter and has held transportation-related internships with The City of Eugene and Kiewit Infrastructure Engineers.
Murray is a co-terminal graduate student expecting to graduate with a B.S. and an M.S. in June 2016. He has been a member of the OIT Traffic Bowl team at two 2015 events (Las Vegas and Portland) and has spent summers interning with Oregon DOT Region 4.
Both Hubbell and Murray have previously been awarded NITC academic and travel scholarships. They will be also be traveling to the 2016 TRB Annual Meeting in Washington, DC with the financial support of NITC and the ITE Student Chapter.
The Douglas P. Daniels Scholarship fund was established to help support transportation engineering students at universities in the Pacific Northwest. Since its inception in 1987, the fund has recognized nearly 700 recipients. Coral Sales Scholars excel in both leadership and interpersonal communications. These distinguished achievers are destined to become front runners in the transportation industry. 
The formal award of these prestigious scholarships took place December 2, 2015 at a dinner held to celebrate Jake and Danit's accomplishments.
Share this: