Oregon Tech Students Win Prestigious Asphalt Association Scholarships
Posted on December 6, 2021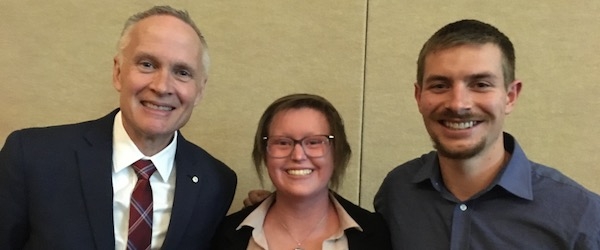 Along with the Oregon Institute for Technology civil engineering faculty, we are proud to congratulate Oregon Tech students Thomas Dodgen and Caroline Schulze for earning scholarships from the Asphalt Pavement Association of Oregon (APAO) Educational Foundation. 
The scholarships were awarded on Friday, December 3 in Bend at a gala event at the APAO Annual Meeting. Oregon Tech maintains a decades-long relationship with APAO and the Oregon asphalt pavements industry - APAO was instrumental in establishing the Oregon Tech Pavement Engineering Lab in Cornett Hall. There were four scholarships awarded this year; the other winners were from Oregon State University and the University of Idaho. Several APAO members commented on the high-quality applications from Oregon Tech students and were impressed with the hands-on experiences that Tech students have in the Pavement Lab!
Thomas Dodgen, a BSCE senior graduating in June 2022, is from Adin, California. Thomas recently interned at Wildish Construction, an APAO member company, in Portland. Thomas is a licensed pilot interested in all modes of transportation!
Caroline Schulze, from Loveland, Colorado, is completing her BSCE and will begin her MSCE graduate studies in June 2022. Caroline is the immediate past president of Oregon Tech's Institute of Transportation Engineers (ITE) Student Chapter. She recently interned for GRI, a geotechnical and pavement engineering in Beaverton, OR.
The Asphalt Pavement Association of Oregon, Inc., (APAO) is a nonprofit trade organization representing the interests of the asphalt paving industry. APAO is affiliated with the National Asphalt Pavement Association (NAPA). 
The National Institute for Transportation and Communities (NITC) is one of seven U.S. Department of Transportation national university transportation centers. NITC is a program of the Transportation Research and Education Center (TREC) at Portland State University. This PSU-led research partnership also includes the Oregon Institute of Technology, University of Arizona, University of Oregon, University of Texas at Arlington and University of Utah. We pursue our theme — improving mobility of people and goods to build strong communities — through research, education and technology transfer.
Share this: