Oregon Tech welcomes sustainable asphalt expert as visiting scholar
Posted on February 27, 2013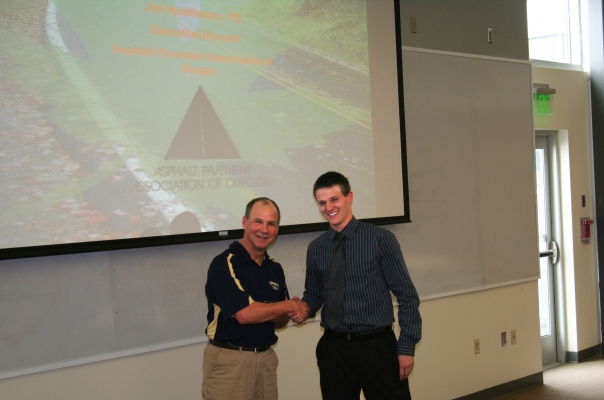 The Oregon Institute of Technology welcomed the head of the Asphalt Pavement Association of Oregon for the Oregon Tech NITC Visiting Scholar Seminar. Jim Huddleston, the association's executive director, spoke Feb. 21 at Oregon Tech's Klamath Falls campus.
The seminar drew 45 people, including students, faculty and professionals from local consulting engineering firms.
Huddleston, who holds bachelor's and master's degrees in civil engineering from Oregon State University, has more than 20 years' experience in pavement design, construction and analysis. He is one of the nation's leading experts on asphalt roadways, including innovative and sustainable applications such as recycled, warm-mix and porous pavements.
On his visit, Huddleston also congratulated Oregon Tech senior Zachary Hudspeth on winning an Asphalt Pavement Association of Oregon scholarship in December. Hudspeth is the president of Oregon Tech's Institute of Transportation Engineers student chapter.
The seminar and student group are supported by OTREC's National Institute for Transportation and Communities program.
Share this: