(Overlooked) Associations between Express Bus Stations and Multifamily Rents
Posted on May 5, 2021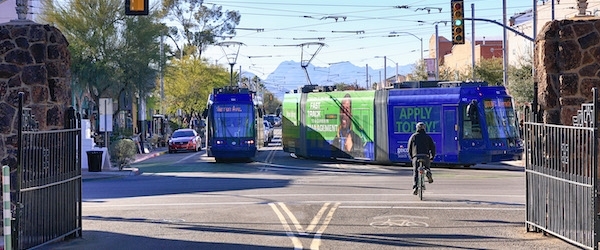 "(Overlooked) Association between Express Bus Station/Stop Proximity and Multifamily Rents with a Surprise about Transit Mode Synergism and Implications for Transit and Land Use Planning" is an April 2021 article in Transportation Research Record: Journal of the Transportation Research Board, authored by Arthur C. Nelson and Robert Hibberd of the University of Arizona. 
The article (PDF of pre-publication version here) is an offshoot of the researchers' NITC-funded project, Transit Impacts on Jobs, People and Real Estate, which we reported on last month. There are two key findings:
Express bus stops have positive influences on multifamily rents up to a mile away, and
Shared express bus and light rail transit stops have synergistic, additive effects on multifamily rents up to one mile around them.
The research is the first of its kind and should open new avenues of transit planning and land use policy. Future economic returns to local economies and local government resources may be maximized by increasing development opportunities near express bus, or XBT, stations/stops. While there has been a concerted effort to create transit-oriented developments (TODs) across the nation, they tend to focus on rail systems or bus rapid transit systems. The analysis suggests that because of positive market responsiveness to XBT station/stop proximity, transit agencies may consider expanding XBT services, as well as creating more synergies between XBT systems and other transit modes. Nelson and Hibberd suggest that perhaps "the time has come" for express bus TODs.
Photo by csfotoimages/iStock
The National Institute for Transportation and Communities (NITC) is one of seven U.S. Department of Transportation national university transportation centers. NITC is a program of the Transportation Research and Education Center (TREC) at Portland State University. This PSU-led research partnership also includes the Oregon Institute of Technology, University of Arizona, University of Oregon, University of Texas at Arlington and University of Utah. We pursue our theme — improving mobility of people and goods to build strong communities — through research, education and technology transfer.
Share this: