Student Spotlight: Clare Haley, University of Oregon
Posted on May 5, 2021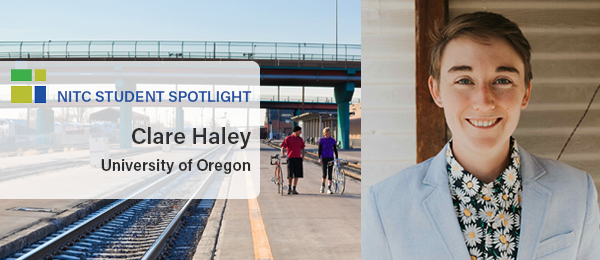 Clare Haley is a Masters of Community and Regional Planning student at the University of Oregon and a 2020 NITC scholar, currently working as a transportation planner for Bohannan Huston Inc. in Albuquerque. She serves as co-present of UO's transportation student group, LiveMove, and is currently researching active transportation street interventions in response to the COVID-19 pandemic with Dr. Marc Schlossberg and Dr. Rebecca Lewis. Her terminal project researches how e-bikes can address the gender gap in cycling. Clare is also the 2021 winner of UO's Sustainability Award for Student Leadership by a graduate student.
---
Tell us about yourself?
I'm originally from Idaho and grew up hiking and camping in the Sawtooth mountains and Teton National Park, and my family instilled in me a strong love of the outdoors. I completed my undergraduate degree in International Studies at the University of Idaho (Go Vandals!). I met my wife shortly after graduation, and we have had the opportunity to travel to Colombia, Ecuador, Indonesia, and England together. Although we haven't been able to travel much since the pandemic, we have been enjoying the amazing forests and coastlines in Oregon.
What (or who) has influenced your career path in transportation? 
Before attending graduate school at the University of Oregon, I worked as a bike mechanic and shop manager in Idaho. I first started thinking about transportation planning while working at the Boise Bicycle Project, a community-driven bike cooperative that provides low-cost used bikes and bike repair. Our members, volunteers, and staff all came from incredibly diverse groups, which opened my eyes to how important bicycling is for mobility for so many people. As a bike mechanic, I talked to cyclists every day and learned about the many challenges of riding bikes on city streets. I decided to go back to school for transportation planning so that I could help design streets to be safer, more comfortable, and more accessible for all forms of transportation. 
You've served as co-president of student group LiveMove - What are you most proud of that the group has accomplished this past year? 
LiveMove, a project-driven active transportation student group, has accomplished a number of achievements this year despite being almost entirely virtual. We've focused our Speaker Series events on transportation and racial justice, and we've held several highly successful events this year. We hosted Tamika Butler, who is an incredible advocate for racial justice in transportation; organized a racial justice bike ride in Eugene; and we will be hosting a panel of staff from the City of Houston to discuss their efforts around active transportation. We've also conducted some fun and engaging outreach for our street re-design project, including a bike lane art contest for local school kids. 
After graduation you'll be working as a transportation planning consultant for a firm in Albuquerque - what are some professional goals you have for the future?
I was recently hired as transportation planner for Bohannan Huston Inc. in Albuquerque. I'm excited to work on a wide array of transportation planning projects, from complete streets redesigns to bicycle encouragement programs to trails planning. Within the next few years, I'm hoping to further develop my design skills and public outreach skills. BHI is a great fit for me because of the planning group's emphasis on multi-modal solutions and innovative design. I'm particularly excited to work in Albuquerque because of New Mexico's unique history, landscapes, and cultural heritage.
This is an installment in a series of monthly Student Spotlights we're shining on students and alumni that are involved with National Institute for Transportation & Communites (NITC) universities. NITC is a university transportation consortium funded by the U.S. DOT, and is a Portland State-led partnership with the University of Oregon, Oregon Institute of Technology, University of Utah, University of Arizona, and University of Texas at Arlington.
Share this: