Portland State student joins women engineers hall of fame
Posted on November 30, 2012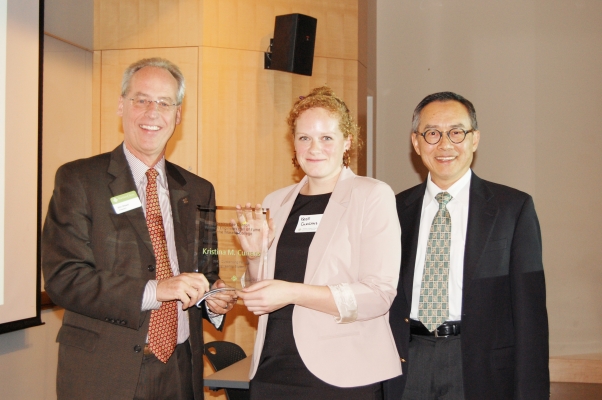 Portland State University inducted graduate student Kristina Currans into the Denice Dee Denton Women Engineers Hall of Fame in a ceremony Nov. 15. Currans is the second transportation engineering student to win the student award.
Maria Klawe, president of Harvey Mudd College, took the Outstanding Female Engineer honors.
Currans' boundless enthusiasm and dedication to her work quickly become apparent to anyone who works with her, said Kelly Clifton, an associate professor of civil engineering and director of the Oregon Modeling Collaborative. "I've never met someone able to manage so many things," said Clifton, who nominated Currans for the honor.
Currans works with Clifton as a part of the Oregon Modeling Collaborative and on several OTREC research projects. "She brings a tremendous amount of energy," Clifton said.
After graduating Oregon State University with a civil engineering bachelor's degree in 2010, Currans soon made a name for herself in transportation circles. She started her graduate coursework at Portland State and worked during academic breaks with the Oregon Department of Transportation's Transportation Planning Analysis Unit, home to state and regional transportation models.
"For someone who had just graduated with an undergraduate degree, she completed that internship and really impressed ODOT," Clifton said. "To do that so quickly caught everyone's attention."
Currans tested and worked with the Statewide Integrated Model, SWIM2, an incredibly complex model that combines transportation, land use and economic systems. So complex, in fact, that it takes more than four days for each model run.
Even that run time is a vast improvement over earlier models, Currans said. "People don't believe me when I tell them it takes that long," she said.
Currans also worked with the GreenSTEP transportation emissions model, a simplified model that can handle many different scenarios. She took the outputs from GreenSTEP and modeled them in SWIM2 to see what the greenhouse gas implications of various policies could be.
The experience of considering different scenarios helped Currans feed a budding interest. "I really enjoy thinking about those kinds of things," she said. "How they compare and looking for different ways to visualize them in ways people can understand."
Currans is now finishing her master's degree and working toward a doctorate at Portland State. She focuses on the relationship between travel behavior and land use, with a particular interest in multimodal transportation.
Even beyond Oregon, the transportation engineering community has already taken notice of Currans. The Institute of Transportation Engineers is paying attention to her work from her master's thesis and from a project with Clifton for potential revisions to its Trip Generation Handbook.
"She's just made a tremendous contribution in the short time she has been here," Clifton said.
Share this: