Student: Caroline Schulze, Oregon Institute of Technology
Posted on June 7, 2022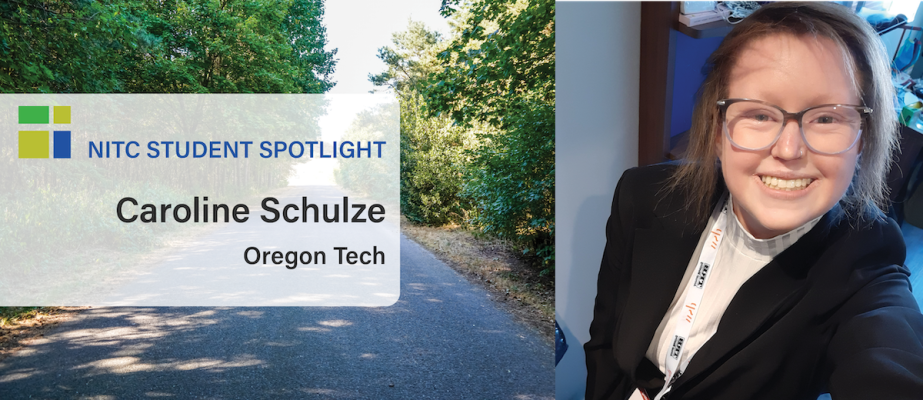 Caroline Schulze is a masters of science in civil engineering (MSCE) student at Oregon Tech, with a focus in transportation and community development. Her transportation interests include pavement condition analysis techniques and asphalt concrete mix design. She completed an internship in summer 2021 with GRI Engineering in Beaverton, Oregon, where she worked extensively in geotechnical testing and pavement engineering. Caroline is the past-president of the ITE Student Chapter and is also a recent recipient of scholarships from WTS Portland, the Oregon Chapter of ITE (the Institute of Transportation Engineers), the Asphalt Pavement Association of Oregon (APAO), and the National Institute of Transportation and Communities (NITC).
Connect with Caroline on LinkedIn
---
Tell us about yourself?
I'm originally from Loveland, Colorado but I'm happy to have called Oregon home for the last four years. I'm proud to say I am a graduate student at the Oregon Institute of Technology (OIT) studying civil engineering and expecting to graduate with a bachelors and masters degree by June 2023. Not only do I love visiting big cities and admiring the infrastructure but I'm also passionate about the outdoors! In my free time you can find me hiking the nearest mountain or canoeing down the Klamath river!
What (or who) has influenced your career path in transportation?
I originally chose to study civil engineering because I was fascinated by how humans interacted with the built environment, especially how they moved around in large cities. While I was always fascinated by public transportation and pedestrian infrastructure, which allows people in cities to move around efficiently, it wasn't till my sophomore year civil engineering materials class that I started to consider what was below the public bus wheels! The enthusiasm and hands on teaching approach that Dr. Roger Lindgren showed for the pavement side of transportation inspired me to dig deeper into the subject. Thanks to the dedicated and extremely supportive civil engineering faculty at OIT I have been given every opportunity to pursue projects related to pavement engineering.
Your graduate work is related to the design of long-lasting and sustainably designed asphalt pavements. Tell us about that project?
The best part about OIT is the state-of-the-art lab facilities that both undergraduate and graduate students get to use regularly for hands on learning. During my sophomore year I prepared and tested asphalt pavement samples in our Pavement Lab; this inspired me to pursue a graduate degree focusing on pavement. My project focuses on properties of Superpave4 and Superpave5 mix designs. Permeability is a factor when considering the durability and sustainability of long-lasting asphalt pavement. I will be preparing laboratory samples of asphalt pavement and conducting permeability testing to compare samples compacted at 4% and 5% air voids.
After graduation, what future work do you envision doing in transportation?
After graduation I see myself doing work that relates to sustainable transportation materials and planning. Sustainability is not only about using the right materials but it's also about promoting equity-based problem solving. My goal as a professional is to not only work in a hands-on environment where I can get dirt on my hands every once in a while, but to also advocate for equitable solutions by empowering community voices and leading with empathy and integrity. I hope to one day be a leader of a team and spend time mentoring young women interested in civil engineering!
This is an installment in a series of monthly Student Spotlights we're shining on students and alumni that are involved with National Institute for Transportation & Communities (NITC) universities. NITC is a university transportation consortium funded by the U.S. DOT, and is a Portland State-led partnership with the University of Oregon, Oregon Institute of Technology, University of Utah, University of Arizona, and University of Texas at Arlington.
Photo by Artjom Kissler/iStock
Share this: