Student Spotlight: Catherine Rohan, University of Oregon
Posted on August 14, 2019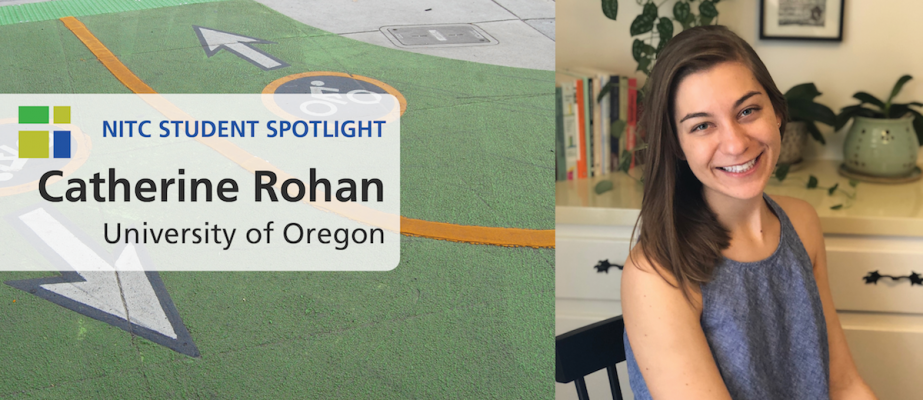 Catherine Rohan, University of Oregon
Catherine Rohan is a masters student at the University of Oregon. She earned a B.S. in Environmental Science from the University of Texas at Austin, has worked as an environmental inspector, a ground truth surveyor, a GIS technician and a Fleet Response Specialist, and is now working toward a masters in community and regional planning. In July 2019 she studied abroad - see her blog about bicycle-focused planning in the Netherlands - and this September, Catherine will present her work on "Planning for New Mobility in Gresham, Oregon" in a poster session at the 2019 Transportation & Communities Summit in Portland, Oregon.
---
Tell us about yourself?
I am a community and regional planning masters student at the University of Oregon. Born and raised in Houston, I came to Oregon via Austin, Texas, where I completed my undergrad in environmental science. While I love Eugene I do miss the Tex-Mex and live music in Austin (unfortunately Oregon-Mex is not a thing). In my free time I like to get outdoors, read, and hunt through vintage and thrift stores. I just finished up an amazing bicycle focused study abroad in Denmark and the Netherlands and will insert an unabashed plug for the program, led by University of Oregon professors Dr. Marc Schlossberg and Dr. Rebecca Lewis.
What (or who) has influenced your career path in transportation planning?
My path to planning has been quite crooked and has surprised even me. My first job out of college had me traveling to major European cities. What I saw abroad contrasted starkly with my suburban sprawl upbringing and I was struck by the degree of influence our built environment has over our environmental footprint as well as our physical and mental health. Fast forward three years and I found myself back in school studying planning. I came to Oregon interested in retrofitting suburbia, but have since expanded my interests to include how public spaces and bicycles can be used to build community and social trust. 
At the Transportation & Communities Summit this September, you'll be presenting a poster on new mobility planning for Gresham, Oregon. Tell us about that research? 
This past school year, three classmates and I examined new mobility in Gresham, Oregon through the University of Oregon's Sustainable City Year Program. Our work, which focuses on new mobility implications for residential and commercial lands, is composed of three main parts; a review of Gresham's current planning documents, a list of the primary and secondary impacts of new mobility, and suggestions for Gresham as to how they can best meet the challenges and opportunities new mobility brings.
After graduation, what future work do you envision doing in transportation?
After graduation I would like to work at the city level involved in either bicycle, pedestrian or public spaces planning. I can also envision working in the nonprofit arena for Project for Public Spaces or other, similar groups. 
This is an installment in a series of monthly Student Spotlights we'll be shining on students and alumni that are involved with National Institute for Transportation & Communites (NITC) universities. NITC is a university transportation consortium funded by the U.S. DOT, and is a Portland State-led partnership with the University of Oregon, Oregon Institute of Technology, University of Utah, University of Arizona, and University of Texas at Arlington.
Share this: