Student Spotlight: Christine Highfill, University of Texas at Arlington
Posted on March 1, 2022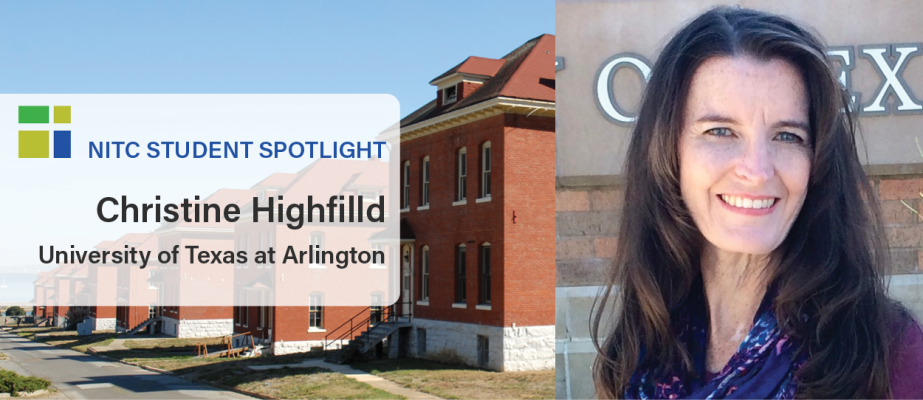 Christine Highfill is a PhD student and graduate research assistant in social work at the University of Texas at Arlington (UTA). She retired as a military spouse in 2014. She has since earned her master's in social work from UTA in 2019, and a master's of arts in human services counseling with a focus on military resilience from Liberty University in 2016. Her primary research interests are social determinants of health and military-connected spousal abuse.
Connect with Christine on LinkedIn
---
Tell us about yourself?
My name is Christine Highfill. I'm a third-year social work doctoral student at the University of Texas at Arlington. My main research emphasis is social determinants of health across the lifespan; within that, I'm most interested in policy related to military-connected domestic abuse. Social work research is my second career. During most of my adult life I was a military spouse raising a large family during the Global War on Terror. I see my research as a way to give back to the Military and its families.
What (or who) has influenced your career path in transportation?
I had not considered transportation as a research path until I began my graduate research assistantship with Dr. Noelle Fields. Although I have personally experienced latent transportation demand in the past that negatively impacted my health, I assumed it was an individual-level problem. During my assistantship, I learned that equitable transportation systems can reduce health disparities associated with latent travel demand. As an emerging researcher, I want my work to be part of the solution to society's challenges. Transportation research gives me an opportunity to create positive change for historically marginalized groups.
You've been working on a NITC project with Dr. Noelle Fields on Latent Transportation Demand with Marginalized and Underserved Populations. Tell us about that research.
I've had the privilege of working with Dr. Fields since 2019. Her research teams deploy a mobile app called MyAmble, which captures latent travel demand of users, among many other common transportation variables. We've used MyAmble in five states and with a variety of marginalized and underserved populations. By investigating a previously hidden variable, our work can inform more robust policy conversations and transportation planning decisions that lead to the development of more equitable systems.
After graduation, what future work do you envision doing in transportation?
Very little work has been done regarding the military-connected spouse abuse survivors' experience. We do know that in the general population, transportation access is a critical piece to understanding survivors' needs and outcomes. Dr. Kristen Ravi developed a transportation coercion scale while she was a NITC student scholar at UTA. I plan to use her scale with my population as a starting point. From there, items can be adjusted or added to reflect the unique needs of individuals who live or receive services on military installations. Ultimately, I hope to use the data I collect to recommend policies that facilitate access to medical treatment, mental health care, and other services for military-connected spouse abuse survivors.
This is an installment in a series of monthly Student Spotlights we're shining on students and alumni that are involved with National Institute for Transportation & Communities (NITC) universities. NITC is a university transportation consortium funded by the U.S. DOT, and is a Portland State-led partnership with the University of Oregon, Oregon Institute of Technology, University of Utah, University of Arizona, and University of Texas at Arlington.
Photo by disorderly/iStock
Share this: