Student Spotlight: Cynthia Roe, Oregon Institute of Technology
Posted on September 6, 2021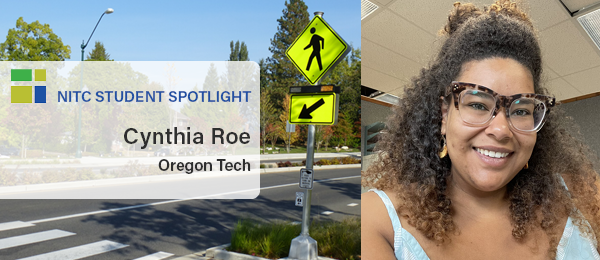 Cynthia Roe is a civil engineering student at the Oregon Institute of Technology. Originally from Weed, California, Cynthia has been attending Oregon Tech in Klamath Falls since 2017 and is on track to graduate in 2022 with a bachelor's and master's degree in civil engineering. Cynthia is an extremely dedicated student who, in addition to her work with the ITE Student Chapter, served as the 2019-20 president of the American Society of Civil Engineers-Associated General Contractors Student Chapter and serves as a peer consultant in the Oregon Tech Student Success Center. She is the recipient of the 2019-2020 Oregon ITE Undergraduate Scholarship.
Connect with Cynthia on LinkedIn
Tell us about yourself?
Growing up in rural Northern California taught me the value of hard work and adaptability which has gotten me where I am today. I am currently a Graduate student at Oregon Tech with a passion for geotechnical and transportation engineering. I believe making connections with people and in different fields is what makes civil engineering work fulfilling and led to my increased interest in urban and transportation planning. I most look forward to traveling, home renovation, and working after graduation.
What (or who) has influenced your career path in transportation?
My involvement in ITE granted me access to presentations of transportation planning and engineering work around the country. Through those experiences I've had many conversations with enthusiastic engineers striving to design safe transportation systems for all people. The excitement and knowledge of these engineers and Dr. Roger Lindgren exposed me to the world of transportation and sparked my own interest in the field.
Tell us about your work evaluating ODOT's RRFB corridor on South 6th Street in Klamath Falls?
RRFB's are still relatively new in Klamath Falls so an efficacy evaluation can help engineers identify if users may need greater education in using and interacting with the infrastructure. My work will focus on characterizing physical components of the corridor, educating the public on user behavior, and suggesting changes which could make the corridor more affective, if applicable. I will also be identifying future research to be done regarding equity for users.
After graduation, what future work do you envision doing in transportation?
Transportation planning would be the perfect combination of using technical knowledge and public input to create communities people enjoy. I could see this field fulfilling my desire to create meaningful contributions in the community and explore planning.
Photo courtesy of pedbikeimages.org/Toole Design Group
This is an installment in a series of monthly Student Spotlights we're shining on students and alumni that are involved with National Institute for Transportation & Communities (NITC) universities. NITC is a university transportation consortium funded by the U.S. DOT, and is a Portland State-led partnership with the University of Oregon, Oregon Institute of Technology, University of Utah, University of Arizona, and University of Texas at Arlington.
Share this: