Student Spotlight: Damian Matzen, Oregon Institute of Technology
Posted on December 2, 2019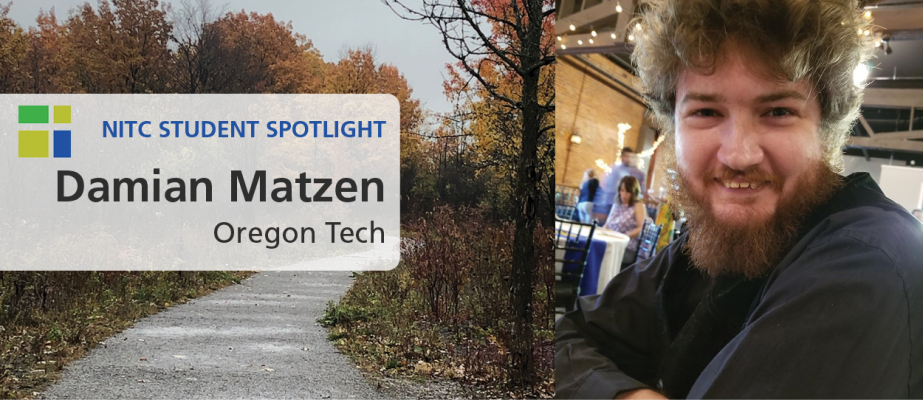 Photo by Ruffnekgal/iStock
Damian Matzen is a masters student at the Oregon Institute of Technology. He is a 2018-2019 National Institute for Transportation and Communities (NITC) scholar, and was selected by NITC's executive committee as the 2019 NITC Outstanding Masters Student. As a recipient of this recognition, NITC is supporting Damian's attendance at the 2020 annual meeting of the Transportation Research Board (TRB) in Washington, D.C. next month.
---
Tell us about yourself?
I'm a third-generation college student from rural Oregon who has always had a passion for solving complicated problems and wading through numbers. My early days were spent with Camp Fire USA exploring local wilderness areas and teaching the younger kids about how to survive. As I grew older, my hobbies began to shift towards the virtual world. Video games became a big part of my life around middle school, with them becoming the dominant hobby during high school. As school became more intensive, video games had to take a back seat, becoming a weekend hobby. During school, I devoted time to helping my classmates and anyone else in the degree who needed it. I never went so far as to give the other students answers, but I would explain terms and equations and do my best to guide them towards the right process.
What (or who) has influenced your career path in transportation?
My path in transportation and transportation design has been influenced and inspired by the world around me. I know that sounds vague, but it's true. The United States relies on automobile travel for much of its function, but many people can't use automobiles for whatever reason. They may have a medical condition where control of a vehicle would be dangerous. Or they may not have a condition that physically prevents them, but rather anxieties or concerns related to controlling a vehicle. Some areas are pushing for increased usability for pedestrians, bicyclists, and shared public transportation and I want to help. Everyone living in a US town, be it a small rural town or a large metropolitan area, should be able to enjoy the same freedom of movement and accessibility.
Tell us about the research you're currently working on?
The research I'm working on is looking at whether topically applied cements, in this case Portland cement supplemented with Mt. Mazama volcanic ash, can make gravel trails easier for light wheeled transit, and make parks more accessible. Throughout the research I've had to think outside the box as there wasn't a lot of prior documentation about this topic, or established practices with regards to stabilizing a gravel surface without replacing the whole thing. Gravel stabilization methods exist currently, and they seem to be very effective. The problem is that they need to be implemented during the construction, or reconstruction, of the trail. I've had the opportunity, and need, to learn how to operate something called the Beneficial Designs rotational penetrometer (BDRP), which allows for quick readings without a lot of fuss. 
After earning your masters, what future work do you envision doing in transportation?
I'd love to be able to work on redesigning existing transportation infrastructure in large cities. As I said in response to the second question, there isn't a lot of access to the community for those who can't, or won't, drive since the leading force behind development was the use of the automobile. Streets can be thinned down, bike lanes can be added, public transit can be utilized and accommodated better, and I want to be a part of it. 
This is an installment in a series of monthly Student Spotlights we're shining on students and alumni that are involved with National Institute for Transportation & Communites (NITC) universities. NITC is a university transportation consortium funded by the U.S. DOT, and is a Portland State-led partnership with the University of Oregon, Oregon Institute of Technology, University of Utah, University of Arizona, and University of Texas at Arlington.
Share this: