Student Spotlight: Farah Naz, University of Texas at Arlington
Posted on September 11, 2019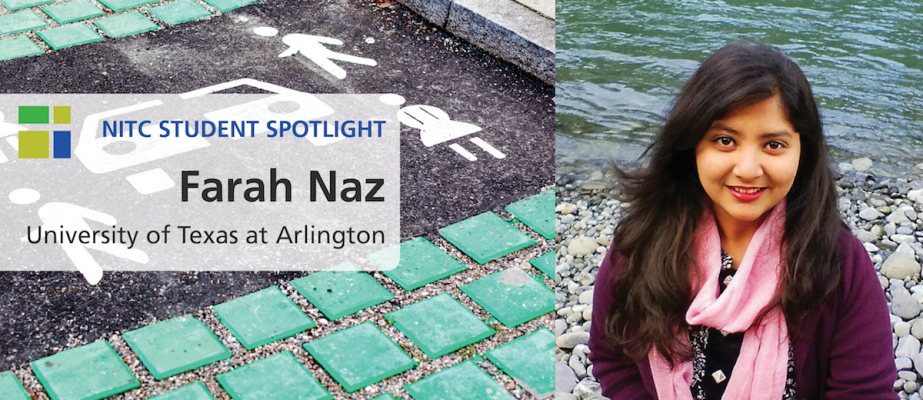 Farah Naz is a doctoral student at the University of Texas at Arlington (UTA). She earned an M.S. in Transportation Engineering from Northeastern University in Boston Massachusetts where she conducted transit related research. She worked with the Oregon Department of Transportation in the Rail and Public Transit division where she assisted in developing the Transit Network Analysis (TNA) software tool in collaboration with Oregon State University. She is currently the Vice President of the ITE student Chapter at UTA. On September 19th she will be presenting in two sessions at the 11th annual Transportation & Communities Summit in Portland, Oregon.
---
Tell us about yourself?
I am a doctoral student and work as a teaching and research assistant at the University of Texas at Arlington. I have worked on numerous research projects focused on shared mobility, social media data-based performance measures, cost optimization modeling, and travel characteristics of transportation disadvantaged population in collaboration with social workers, environmental engineers, computer scientists and industrial engineers. This year I am planning to showcase my research findings at numerous national and international conferences.
What (or who) has influenced your career path in transportation?
I grew up seeing my father working a transportation engineer for the Roads and Highways Department of Bangladesh. From my early childhood, I had a dream of working in the transportation sector and building an efficient system for its users.
You'll be presenting work at Transportation & Communities Summit on September 19. Tell us about that research?
I will be presenting work from two projects: "Assessing Viability of Carsharing for Low Income Community" in the Lightning Talks session, and "A Comparative Analysis of Paratransit and On-Demand Ridesharing: Riders and Their Travel Pattern" in the poster session at the summit. I will talk about my investigation on transportation disadvantaged populations, their travel patterns, and the viability of different modes in fulfilling their demand.
After graduation, what future work do you envision doing in transportation?
After graduation I am planning to advance my career in academia. I plan to explore the emerging technologies in transportation, different mobility options, and strategies and planning methods through my research to build an efficient transportation system for the community.
This is an installment in a series of monthly Student Spotlights we're shining on students and alumni that are involved with National Institute for Transportation & Communites (NITC) universities. NITC is a university transportation consortium funded by the U.S. DOT, and is a Portland State-led partnership with the University of Oregon, Oregon Institute of Technology, University of Utah, University of Arizona, and University of Texas at Arlington.
Photo Credit: dvoevnore on iStockphoto.com
Share this: