Student Spotlight: Garrett Stephens, Oregon Institute of Technology
Posted on November 14, 2018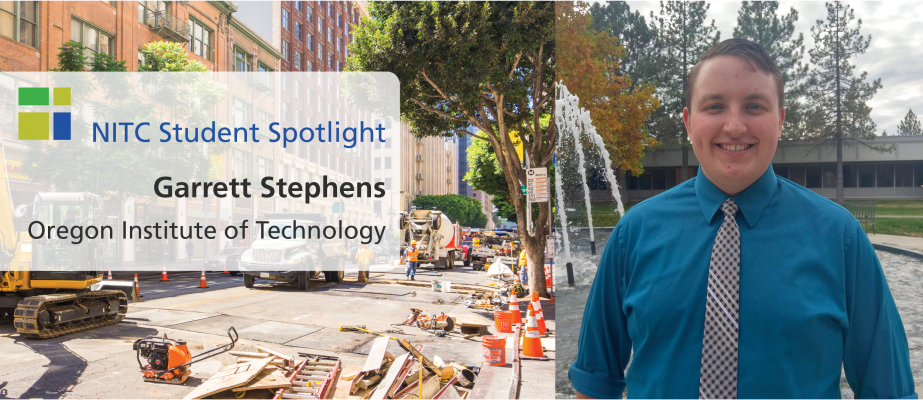 Garrett Stephens, Oregon Institute of Technology
Garrett Stephens is Oregon Tech's 2018-19 ITE Student Chapter President and has held civil engineering internships at Kiewit and Lane County Public Works. He was interested in civil engineering from a young age, and has recently decided to pursue a graduate degree with a focus on transportation.
---
Tell us about yourself?
My name is Garrett Stephens and I am from the Clackamas/Damascus area outside of Portland, Oregon. Growing up, my family owned our own retail paint business where I worked when needed and developed a strong sense of ownership in anything I did. My college career started when I was 16 years old through an early college options program between the homeschool program I was enrolled in and Clackamas Community College. This program allowed me to really step out and develop leadership skills through the classes I took. Outside of academia, I am an avid outdoorsman and love all that Oregon has to offer.
What and/or who has most significantly influenced your path in transportation?
I enjoyed building with Lego's when I was young which is what originally piqued my interest in civil engineering. During grade school and high school, I wrote many future career papers on civil engineering and began to grasp what an engineer does. When my college search began, my father and I met with Dr. Roger Lindgren for an hour at Oregon Tech. Our meeting was the deciding factor and the reason why I attend Oregon Tech today. Through my time here, Dr. Lindgren fanned the flame of civil engineering, specifically transportation engineering, and now I get to enjoy working with him as the ITE Student Chapter President.
As Oregon Tech's ITE Student Chapter President for the 2018/19 academic year, what are you looking forward to accomplishing with your fellow students?
I would love to see the growth in professional skills throughout the year by having technical sessions and workshops for my fellow students. Additionally, more group activities during chapter meetings would be a welcome segment to the normal update and future events of the current meetings and I believe would only further the group dynamics. Overall, I want to see the passion in transportation engineering and sense of community further increase in all students involved.
You've taken on a couple of transportation internships, what are your biggest takeaways from that work?
My two biggest takeaways from interning would have to be the sheer number of parties involved during the design and construction of a roadway and just how many alternatives there are to a given problem. I found that the most crucial attribute for these takeaways was the importance of strong communication between everyone involved.
---
This is an installment in a series of monthly Student Spotlights we'll be shining on students and alumni that are involved with National Institute for Transportation & Communites (NITC) universities. NITC is a university transportation consortium funded by the U.S. DOT, and is a Portland State-led partnership with the University of Oregon, Oregon Institute of Technology, University of Utah, University of Arizona, and University of Texas at Arlington.
Share this: