Student Spotlight: Kayla deHoop, Oregon Institute of Technology
Posted on August 3, 2020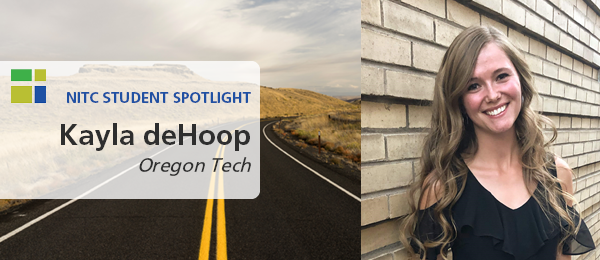 Kayla deHoop recently completed her bachelors degree in Civil Engineering at Oregon Tech and is currently a masters student. Her graduate project will focus on the safety impacts of raising the speed limit on rural two-lane highways in Eastern Oregon. During her time at OIT, she has been actively involved in many of the engineering student clubs on campus including the American Society of Civil Engineers-Associated General Contractors (ASCE-AGC), Institute of Transportation Engineers (ITE) and Tau Beta Pi. Kayla has also had the opportunity to hold several internships in the transportation field including working with ODOT and WSDOT as a field intern on highway reconstruction and paving jobs and Kiewit Infrastructure Engineering as a roadway design intern.
---
Tell us about yourself?
I grew up in Klamath Falls, Oregon on a dairy farm and didn't really consider engineering until my senior year of high school. I took a personality and placement test and several times civil engineering came up as the top career for me, so that is what I pursued and I am so glad I did! At Oregon Tech I have become very involved with many student clubs including ASCE-AGC, ITE, and Tau Beta Pi, often taking on a leadership role. Outside of school I love baking and being outdoors, camping and hiking. 
What (or who) has influenced your career path in transportation?
My path to transportation was initially influenced by my uncle who is an engineer for the Washington Department of Transportation. He recommended and helped me get my first internship as a field intern working on a highway paving project. I absolutely loved the experience, especially being on site, seeing and helping build roads. When I returned to school, I became more active with the student ITE chapter and enjoyed hearing about the issues and advances in transportation.  OIT also has a great transportation and traffic professor, Dr. Roger Lindgren, who has made the transportation classes fun and interesting. 
This past spring, you were awarded a scholarship. Tell us a little about the work that award will enable you to pursue? 
This past spring I was awarded the Dutra/Stewart Scholarship for heavy construction, which has allowed me to complete my bachelors degree and will contribute to my masters degree this coming fall. I will be working on a project studying the safety impacts of raising the speed limit on rural two-lane highways in Central and Eastern Oregon. I chose this project not only because it is highway based, but because of the potential impacts that the results of the study could have on creating safer highways in Oregon.
After graduation, what future work do you envision doing in transportation?
After graduation, I see myself working as a field or project engineer. I believe working on site and getting some practical construction experience is important to be a well rounded engineer. The aspect that I love about transportation engineering and construction is the large scale of the projects, so that is the direction I would like to head, highway construction. Additionally, I love seeing a project progress and the positive impacts it will have on a community upon completion.
This is an installment in a series of monthly Student Spotlights we're shining on students and alumni that are involved with National Institute for Transportation & Communites (NITC) universities. NITC is a university transportation consortium funded by the U.S. DOT, and is a Portland State-led partnership with the University of Oregon, Oregon Institute of Technology, University of Utah, University of Arizona, and University of Texas at Arlington.
Share this: