Student Spotlight: Zoe Green, University of Oregon
Posted on August 2, 2022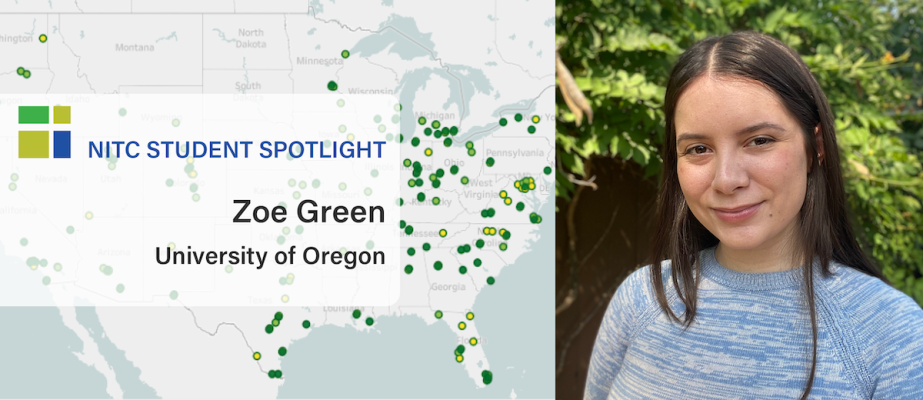 Zoe Green is a student at the University of Oregon. She is pursuing a bachelor's of science in environmental studies, and a minor in sustainable business. This year she worked as a NITC research assistant, supporting a project on the equity requirements of shared micromobility programs. Learn more about that project: Using Maps and Online Tools to Operationalize Equity in Shared Mobility Services.
---
Tell us about yourself?
I'm an incoming senior at the University of Oregon pursuing my BS in environmental studies with a minor in sustainable business. I recently moved back to my home state of Oregon after growing up in Kentucky. My time spent exploring my small town in the Midwest, paired with my frequent visits to the PNW, heavily influenced my interest in environmental conservation. In response to taking courses at UO, my focus shifted to environmental justice. Outside of school, I enjoy baking new recipes, going on picnics with my friends, and making music.
What (or who) has influenced your career path in transportation?
Coming to Eugene was the first time I lived in an environment with accessible, welcoming public transportation. This experience, and my interest in environmental justice, led me to take Prof. Anne Brown's course, Urban Transportation. Feeling a bit lost in the environmental studies field at the time, it was energizing to learn about how equity is addressed within our built environments through transportation planning processes.
You just finished working on a NITC project with UO's Anne Brown and Amanda Howell -- Tell us about that work?
The project's overall goal was to develop two tools (an interactive map and an equity evaluation tool) that provide long-lasting guidance to practitioners based on the findings from Anne and Amanda's previous research project, "Mobility for the People: Evaluating Equity Requirements in Shared Mobility Programs."
I assisted in collecting and cleaning data in preparation for developing the interactive map that reflects over 200 shared micromobility programs in the U.S., including detailed information about different equity requirements (like reduced prices and geographic distribution) that each program enforces. The map/dashboard I created via Tableau has search and filtering features to allow users to learn more about how programs are working to deliver equity in shared micromobility.
After graduation, what future work do you envision doing in transportation?
I see myself in a career focused on the intersection between transportation, equity, and healthy environments. Ultimately, I want my work to center on advocating for historically marginalized communities.
This is an installment in a series of monthly Student Spotlights we're shining on students and alumni that are involved with National Institute for Transportation & Communities (NITC) universities. NITC is a university transportation consortium funded by the U.S. DOT, and is a Portland State-led partnership with the University of Oregon, Oregon Institute of Technology, University of Utah, University of Arizona, and University of Texas at Arlington.
Share this: