Transportation secretary touts Portland project as national model
Posted on March 23, 2011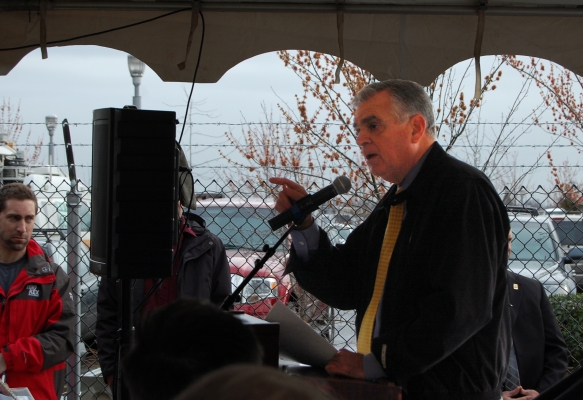 In a tent in a parking lot under a freeway bridge, Ray LaHood saw the future of the country's transportation network Tuesday. The U.S. Secretary of Transportation spoke to reporters, dignitaries and construction workers in the muddy work zone of Southwest Moody Avenue.
Last year, the project to rebuild Moody Avenue received a $23.2 million grant from the federal stimulus package. The project will double the streetcar tracks and add a cycle track and sidewalks. It will also ease connections to a new transit bridge that will carry the Portland-Milwaukie light rail line, the eastside streetcar loop, cyclists and pedestrians.
LaHood, joined by the area's congressional delegation, city and state officials, stressed the jobs the project is creating and the boost for the mix of transportation modes it represents. The project will also reduce congestion, LaHood said, by making transit attractive to current and future residents and employees.
Before construction started along Moody, automobile congestion was virtually nonexistent. However, it's a heavily trafficked bicycle route connecting Portland's cycle-friendly downtown bridges with its largest employer, Oregon Health and Science University.
By allowing choices of light-rail train, streetcar, bicycle and shoe leather, the project stands to boost those forms of transportation. If commuters leave their cars at home, that represents a reduction in congestion elsewhere. Of course, the project will also add a third traffic lane, making driving more convenient.
Portland Mayor Sam Adams touted the economic-development potential the project could unlock. It would connect the developed downtown with the South Waterfront's budding skyscraper district.
The project will add a massive amount of fill to boost the road level a full 14 feet, allowing contaminated sites to remain undisturbed while letting developers add "tuck-under" parking.
"The Southwest Moody Avenue project opens up dozens of acres of vacant central-city land to redevelopment," Adams sad.
In the long term, the project could boost public- and private-sector development. The OHSU Schnitzer Campus will one day rise on the site of the press conference.
The Moody Avenue project is one piece in a larger development effort for the area that will involve other transportation and energy improvements. Other plans call for extending Southwest Bond Avenue, which currently ends OHSU's Center for Health and Healing, north through the Schnitzer Campus.
The Moody project site stretches from Southwest Gibbs Street north to Southwest River Parkway and is paid for with state and local money in addition to the federal support. Construction is scheduled to wrap up by 2012.
Share this: