Transportation students present at first Portland State research symposium
Posted on May 8, 2013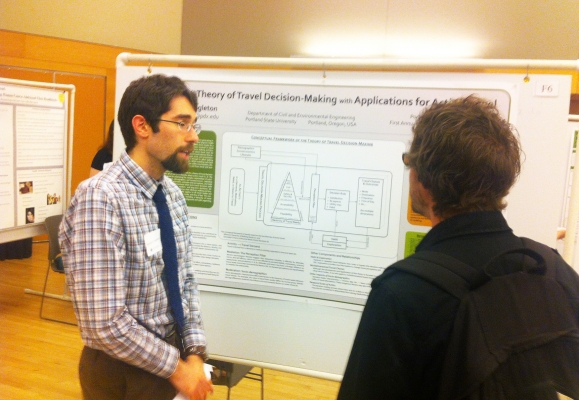 Five OTREC-supported student transportation researchers presented their work Wednesday at Portland State University's first Student Reserach Symposium. Tara Goddard and Katherine Bell presented their work in panel sessions, while Sam Thompson, Patrick Singleton and Oliver Smith presented posters.
Goddard presented her paper, "Are Bicycling and Walking 'Cool'?: Adolescent Attitutes About Active Travel," in the public health and urban studies session. She'll offer an in-depth take on the same topic at noon May 24 for OTREC's Friday transportation seminar. Click here for more information.
Bell's paper, "Evaluation of Smart Phone Weight-Mile Truck Data for Supporting Freight Modeling, Performance Measures and Planning," details some of her work with civil engineering associate professor Miguel Figliozzi. Click here to download a version of the paper.
Thompson's poster was "A Study of Bicycle-Signal Compliance Employing Video Footage;" Singleton's poster was "A Theory of Travel Decision-Making: Applications for Active Travel;" Smith's was "The Effects of Mode Choice on Subjective Well-Being: Evidence from Portland, Oregon."
The symposium, which organizers expect to become an annual event, featured more than 100 panel presentations and 115 research posters.
Share this: