Transportation Undergraduate Research Fellows Advance Multimodal Travel
Posted on August 24, 2022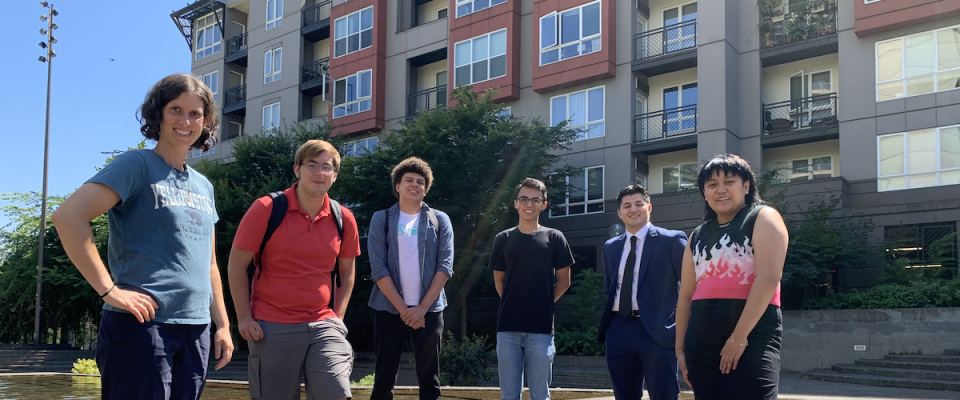 The Transportation Undergraduate Research Fellowship (TURF) program at Portland State University has hosted twenty-four fellows since 2017, and recently wrapped up its summer 2022 session. This year, six undergraduate researchers worked on projects aimed at improving the safety and efficiency of multimodal transportation systems. The research goals ranged from surveying pedestrian count programs and safety performance functions across the country, to reviewing case studies of tactical curb extensions and collecting pedestrian data at intersections. 
Hosted by PSU's Transportation Research and Education Center (TREC), the TURF fellows also experience a variety of workshops with PSU faculty and staff on research, communication and data science skills. They attended the 2022 Forth Mobility Roadmap Conference in June, and participated in networking events with the Portland chapters of YPT and WTS. Here is some of what the students had to say about the experience:
"I enjoyed all of the experiences surrounding my time here at TREC, but I loved the workshops. I especially enjoyed Dr. Golub's workshop around transportation equity, as it was laid-back and invited dialogue. It was an honest, open-ended conversation with someone who had a lot of information to share."
"The Forth Roadmap Conference was eye opening. I participated in an e-bike tour where I learned how to use Biketown and this has been an invaluable resource to me all summer. We spoke to many vendors and learned about Portland's electric buses, how electric vehicle car share programs can benefit low income and BIPOC communities, and successful programs internationally."
"I found Dr. Lubitow's workshop on qualitative and quantitative data really interesting. While I had known the distinction between both kinds of data, the value of this workshop came from our discussion on incentivizing marginalized populations to participate in qualitative data collection through interviews that have incentives like childcare and additional assistance."
TURF is supported by an education grant through our U.S. DOT funded UTC program the National Institute for Transportation and Communities (NITC). Students are selected through a competitive application process, and many go on to do graduate research in transportation and become professionals:
Several fellows are now young professionals in our industry: Jared Islas is a planner at Metropolitan Government of Nashville and Davidson Cou

nty, Senna Phillips is a planner at NYC Transit, and Lauren Mullarkey-Williams is a planner/engineer at Gibson Transportation Consulting. Many others are now pursuing graduate degrees in planning and engineering.

2019 TURF fellows Abbey Ibarra, Garima Desai and Lillie Nie co-authored research during their time in the program, an August 2022 article in the

Journal of Transport and Land Use

published "

Congested sidewalks: The effects of the built environment on e-scooter parking compliance

."

After completing her undergraduate studies at University of Arizona, 2018 TURF fellow Gabby Abou-Zeid went on to pursue a graduate degree in civil engineering with a focus on transportation at PSU. Earning numerous awards, including the Dwight D. Eisenhower Transportation Fellowship Program's Top Ranked Masters Fellow for 2019/2020, and a 2020 Eno Center for Transportation Future Leaders Development Conference Fellow, she is now a Transportation Data Specialist at ICF.

Join us on Sept. 16, 2022 to hear from Gabby and FHWA Sr. Policy Analyst Allen Greenberg on their research on parking cash-out programs.
MEET THE 2022 TURF FELLOWS
Taj Ali, University of Oregon
Liam Anthony, Cornell University
Liam was also part of a team, with fellow TURF researchers Matthew Prak and Jason Grajales, involved in the extraction of pedestrian data using traffic footage from intersections across the state of Oregon. The three of them viewed hours of raw footage from several intersections with pedestrian push buttons, recording data on the pedestrians' behavior in crosswalks. Connect with Liam on LinkedIn.
Adri DeGuzman, Lewis & Clark College
Jason Grajales, Portland State University
Matthew Prak, Oregon State University
Connect with Matthew on LinkedIn.
Taylor Ward, Portland State University
Want to stay updated on the TURF program? Fill out this interest form if you would like to be notified when TURF applications open in the future.
Portland State University's Transportation Research and Education Center (TREC) is home to the U.S. DOT funded National Institute for Transportation and Communities (NITC), the Initiative for Bicycle and Pedestrian Innovation (IBPI), PORTAL, BikePed Portal and other transportation grants and programs. We produce impactful research and tools for transportation decision makers, expand the diversity and capacity of the workforce, and engage students and professionals through education and participation in research.
Share this: