UO Student Group, LiveMove, wins national award
Posted on May 15, 2015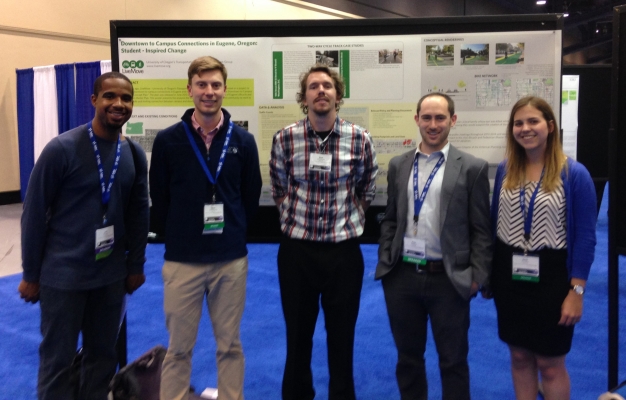 The goal is to keep people moving west. Seems like an easy enough task, but currently there is no way for cyclists to keep riding west from the University of Oregon campus on 13th Avenue after Hilyard Street in Eugene, Oregon.
That's where LiveMove, the UO's transportation and livability student group, stepped in and developed the 13th Avenue Project to create a two-way protected bike lane along the north end of the street. The new bike route will travel from the university campus to Olive Street, a distance of over a mile.
It's a project that's now on the city of Eugene's Capital Improvement Plan budget for 2018, and it was the task of LiveMove president Ross Peizer and incoming vice president Brett Setterfield to present a poster outlining the project at the American Planning Association's 2015 National Conference in Seattle, where they won the FAICP Choice Award.
After weeks of hard work and countless hours of looking at a computer screen, the team developed a poster that clearly and professionally detailed the 13th Avenue Project.
During the presentation, the students had several people approach and ask what the project was all about.
"One particular individual that stood out was a planner from Ontario, Canada who specifically sought us out. He was extremely interested in the specifics of the project and how the city planned on implementing them. He said that he was hoping to implement more bicycle friendly infrastructure in his city, and this project was something he could potentially use as an example. It was pretty cool to see something developed by a student group in Eugene used internationally as a potential case study," Setterfield said.
Considering the large number of posters being presented, Setterfield said he was just happy with the experience of presenting the poster at a national conference.
It wasn't until the students were at a Mariners game later that night that Piezer told the group that they'd won the award.
"It was a pretty awesome experience and had me feeling pretty good about our hard work. I had an awesome time at the conference, and this award was just the icing on the cake for a great weekend in Seattle," Setterfield said.
Share this: