V2X Bikes: Tactical Urbanism for the Engineer in All of Us
Posted on February 28, 2019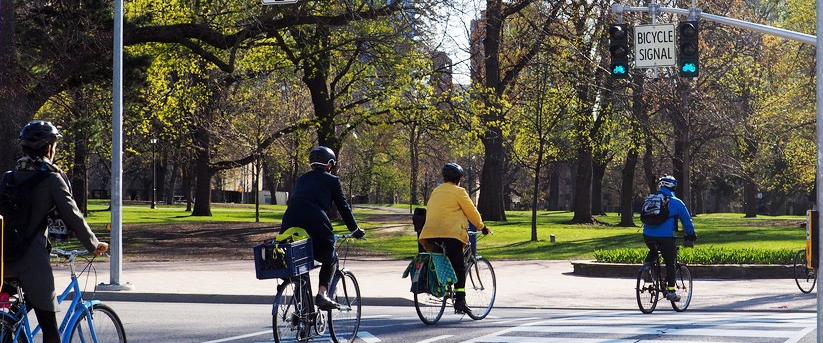 Learn more about this research by viewing the Executive Summary and the full Final Report on the Project Overview page.
---
Most people who bike for transportation can probably think of "that one intersection:" The light where it's impossible to get a green without waiting. Even when there are no cars, pedestrians or other bikes in sight, you still know you'll have to stop and wait a while, sacrifice all your momentum, and wish you could have given the signal advance notice that you were coming.
Researchers at the University of Oregon have created an app for that.
Lead investigator Stephen Fickas, a computer and information science professor at the UO, developed the app, along with a specially-designed Bike Connect 'box' (watch the 3-minute video) that attaches to a traffic signal controller. With the box installed, the app allows a cyclist to alert the signal that they're coming and request a green light in advance of their arrival.
It's a small-scale, DIY approach to vehicle-to-infrastructure communication: The City of Eugene, Oregon gave the team permission to install their hardware at a test signal at 18th & Alder, an intersection on a very busy bike corridor in Eugene.
The next phase of the research focuses on expanding the installation through a corridor, and will be coming to completion later this summer.
Larger-scale, citywide vehicle-to-infrastructure (V2X) systems are more comprehensive, incorporating all modes and all types of infrastructure. While this system isn't ready for large-scale adoption, it does have the unique appeal of allowing a small group of people – say, a university class, or a cadre of dedicated hobbyist engineers – to interface with a signal controller, along with gaining an insider's view of how those signal phases are timed.
Provided they can get their city's buy-in, of course.
City officials, breathe easy: Just in case of any interference with normal operations, the system comes with a built-in kill switch. So far, after 296 days of operation, Eugene has never had to use it.
This project recognizes that V2X technology doesn't have to be hidden behind company walls or reserved only for researchers at universities. Instead, developing V2X technology can be made an open project available to anyone, and in particular, students wishing to learn more about the Internet of Things and transportation.
"We've shown that working with run-of-the-mill signal controllers, it's straightforward. So if someone else wants to do something cooler, I'm hoping they could build on it," Fickas said.
As part of an earlier NITC education project, the team developed a set of video lessons that provide a clear and detailed roadmap to building (no soldering needed) and programming the box actually used in the project. This gives students a chance to explore V2X technology and, in the end, produce something that can be used in their own community.
This project is part of a larger goal to create and test a comprehensive, low-cost, ubiquitous system that brings cycling into the smart and connected communities' framework, focusing in four key areas:
Develop transportation scenarios for the challenges that children face when biking to school and evaluate those scenarios in a bicycle simulation lab.

Develop technology that will address those challenges by tapping into the larger smart-transportation infrastructure through an inexpensive active transportation device (Bike Connect) and, at the same time, extend that infrastructure to open up a new world of bike-friendly features (through the Bike Connect Device).

Tie scenarios, simulation and technology development together in a new agile framework especially suited for domains where field tests are problematic.

Demonstrate the suitability of our approach by focusing on four schools that are diverse both in the student body and the geographical challenges they present.
It's one piece in a larger puzzle: Through various avenues, NITC research aims at making "Smart Cities" accessible to everyone. To this end we're also exploring the equity implications of automated transit fare, as well as a large-scale V2X "Connected Streetcar" project in Portland, Oregon.
This research was funded by the National Institute for Transportation and Communities, with additional support from the University of Oregon and the City of Eugene, Oregon.
RELATED RESEARCH
To learn more about this and other NITC research, sign up for our monthly research newsletter.
The National Institute for Transportation and Communities (NITC), one of five U.S. Department of Transportation national university transportation centers, is a program of the Transportation Research and Education Center (TREC) at Portland State University. The NITC program is a Portland State-led partnership with the University of Oregon, Oregon Institute of Technology, University of Utah and new partners University of Arizona and University of Texas at Arlington. We pursue our theme — improving mobility of people and goods to build strong communities — through research, education and technology transfer.
Share this: