Workforce summit draws attention to a different transportation employment crisis
Posted on March 26, 2012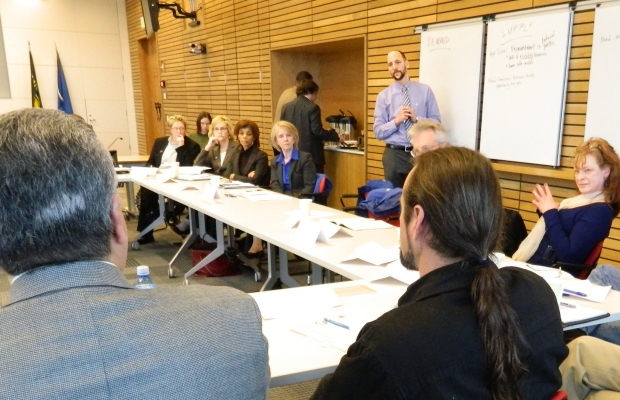 With persistently high unemployment, it's hard to imagine that having too many available transportation jobs constitutes a workforce crisis. But with many local agencies expecting half or more of their employees to be eligible for retirement within five years, that crisis looms.
Against this backdrop, 35 transportation leaders from Portland-area agencies met March 20 for a roundtable discussion of workforce challenges. Portland Mayor Sam Adams and Multnomah County Commissioner Loretta Smith co-chaired the meeting, which included participants from organizations that train and educate as well as those that hire transportation workers.
The group agreed that a skills gap exists: there are plenty of people available to fill future vacancies but overwhelmingly they lack the specialized skills. Welding provides one example.  The demand for skilled welders far exceeds the supply. In response, Portland Community College is working to expand its training program in that area.
Elsewhere, the region's economic plan calls for doubling exports. But if that happens, port operators will face an even bigger struggle to find workers with maritime experience or mastery of specialized software.
Returning military veterans often present a different problem: they have the skills but don't necessarily have the proper certification. For example, many veterans have extensive experience driving large trucks but lack the commercial driver's license required to work as a civilian truck driver. Certified drivers are already in high demand and veterans could help meet this need by entering the transportation workforce.
During the roundtable discussion, many participants voiced support for increasing the visibility of transportation careers, especially for children. There were many ideas for interesting tours and demonstrations so children from elementary through high school age can imagine more than just an orange vest and a hard hat when they hear the phrase "transportation worker."
The meeting will serve to inform a national transportation workforce summit being held in Washington, D.C., in late April. That event, co-sponsored by U.S. DOT and the Council of University Transportation Centers (of which OTREC is a member), will draw on more than a dozen regional summits to develop a national strategy.
Share this: