Workshop participants will cycle down Portland's best trails
Posted on September 29, 2014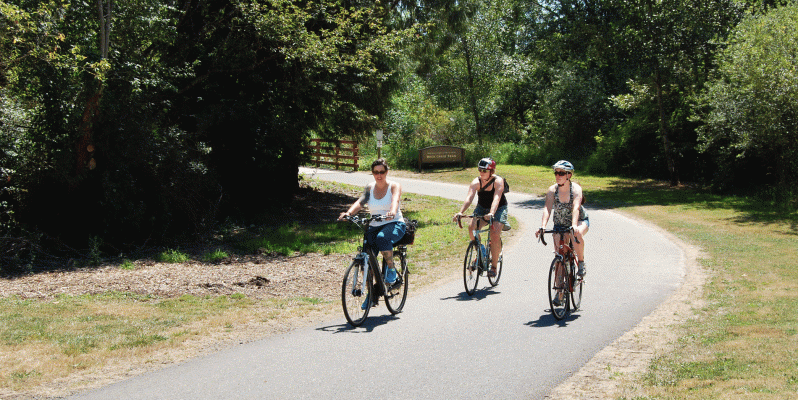 The Initiative for Bicycle and Pedestrian Innovation (IBPI) is teaming up with Alta Planning + Design to offer a firsthand, on-the-ground training opportunity at the end of October.
They will teach a trail design course at Portland State University, with field tours of some of Portland's biggest trail challenges and best solutions.
Course instructors are Alta associates Robin Wilcox, George Hudson, and Karen Vitkay. They will share their experience and provide examples from some of the best trails around the country.
Multi-use trails, not accessible by car but meant to be shared by pedestrians, cyclists and the occasional leashed dog, are pleasant routes by almost anyone's standards. Often winding through wooded areas or along waterways, insulated from the noise of traffic and offering contact with nature, they present an attractive alternative to cyclists who are not as comfortable riding on busy streets.
While any segment of trail can offer a pleasant stroll, the true beauty of shared-use trails lies in being able to use them: as an alternate, off-street means of travel, a route to school or a way to get to work in the morning. A widespread switch from driving on streets to walking or cycling on trails has the potential to change communities by reducing greenhouse gas emissions, increasing physical activity, and sharpening our well-being.
Yet it is a challenge to create a network of trails that is connected and functional enough to be able to serve as a commute route for a significant number of people.
Portland, Oregon's 79 miles of off-street bike paths were instrumental in allowing Portland to retain its usual spot in the top five bike cities in Bicycling Magazine's 2014 ranking, and to become the only large city in the nation awarded Platinum status by the League of American Bicyclists. 
That is also what makes Portland State University the ideal setting for this workshop experience.
The field tours, on bicycle (rental will be available for those who do not have bikes or who will be traveling without theirs), will take participants beside the highway along the surprisingly peaceful I-205 path, which connects east Portland's neighborhoods to the light rail system and to the Columbia River Gorge. The class will also bike along the Springwater Corridor as it connects through neighborhood greenways, and down the floating walkway of the Eastbank Esplanade, which follows the east bank of the Willamette River.
Professionals who are engaged in planning, designing or advocating for bicycle and pedestrian networks at the community or regional level are invited to attend the one-and-a-half-day course, eligible for 9 hours of professional development. The course is also open to engineering and planning students.
While IBPI's popular week-long Comprehensive Bicycle Design and Engineering courses usually touch on some aspects of trail design, this workshop will focus on the particulars: trail widths, surfacing, road crossings, trail types, sustainable infrastructure and more.
Participants are encouraged to bring examples of trail challenges they are currently facing in their communities. Those who are tackling trail gaps, difficult crossings, or challenging connections to the on-street network can draw on the expertise of course instructors and fellow students, working as a group to examine issues, find precedents, and sketch out potential solutions.
For more information or to register for this workshop, visit the course page here.
Share this: