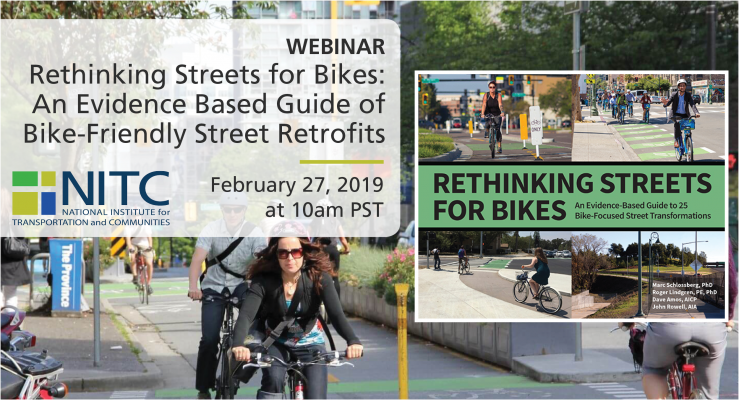 DATE:
Wednesday, February 27, 2019,

10:00am

to

11:00am

PST
SPEAKERS:
Marc Schlossberg, University of Oregon; Roger Lindgren, Oregon Tech
PRESENTATION ARCHIVE
Miss the webinar or want a look back?
OVERVIEW
There is a growing demand for better infrastructure and fewer barriers to biking and other forms of space-efficient micromobility. Tackling daily trips by bike is easier on the environment, healthier for users and non-users alike, uses precious urbanized public and private land more efficiently, costs taxpayers less to build and maintain infrastructure, and when routes are safe and comfortable, moving by bike is also fun! Complete Streets policies are being adopted across the country, and there is an active conversation around the safety imperative of a Complete Streets approach. Yet, local officials often need both design guidance and the confidence on how to retrofit streets for people on bikes that will actually work.
To fill this gap, an interdisciplinary team of NITC researchers, including Marc Schlossberg and John Rowell of the University of Oregon, Roger Lindgren of the Oregon Institute of Technology, and Dave Amos of UC Berkeley (behind the popular City Beautiful video series) created this new public resource. Rather than using hypothetical designs or artistic renderings, the team showcases proven, high-quality, completed projects from a diversity of communities and contexts and does so in a visual way that can help communicate to a diverse set of stakeholders in any community. This new guide was funded by the National Institute for Transportation and Communities, and is now available for FREE download, in full or by chapter.
KEY LEARNING OUTCOMES
At the end of this webinar, the learner will be able to:
Become aware of this new publicly available resource;
Understand how to appeal to a broader range of community stakeholders when proposing street retrofit projects;
Learn how to share bicycle infrastructure design ideas—with policymakers, neighborhood curmudgeons, planners and urban designers, local chambers of commerce, transportation planners, economic development experts, and engineers—so that everyone can engage at the same level of base knowledge;
Put this knowledge into action and create streets that encourage bicycle transportation.
THE RESEARCH
This webinar is based on a study funded by the National Institute for Transportation and Communities (NITC) and conducted at the University of Oregon. Read more about the research: From Knowledge to Practice: Rethinking Streets for People on Bikes.
SPEAKERS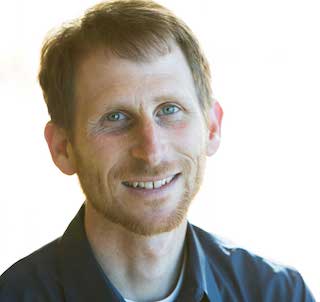 Marc Schlossberg, University of Oregon
Marc Schlossberg is a professor of city and regional planning and Co-Director of the Sustainable Cities Initiative (SCI) at the University of Oregon. He is a 2-time Fulbright Scholar who focuses on sustainable transportation and ways to catalyze social change. This summer he will be leading his fifth study abroad class on redesigning cities for people on bike.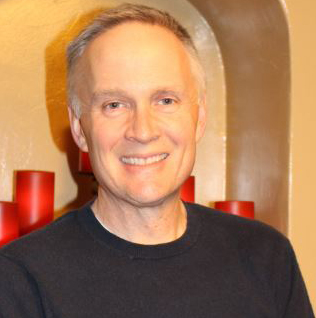 Roger Lindgren, Oregon Institute of Technology
Roger Lindgren is professor of civil engineering at the Oregon Institute of Technology. His research interests include traffic flow theory, intelligent transportation systems (ITS), microscopic simulation of urban and rural traffic, as well as pavement design and construction. Dr. Lindgren joined the faculty at Oregon Tech. in 1999 and teaches both undergraduate and graduate courses in transportation engineering as well as lower-division courses in engineering fundamentals.
PROFESSIONAL DEVELOPMENT
This 60-minute webinar is eligible for 1 hour of professional development credit for AICP (see our provider summary). We provide an electronic attendance certificate for other types of certification maintenance.
LEARN MORE
Sign up for our newsletter to get updates on our events.
This webinar is hosted by the Transportation Research and Education Center (TREC) at Portland State University. The research was funded by the National Institute for Transportation and Communities (NITC), a program of TREC and one of five U.S. Department of Transportation national university transportation centers. The NITC program is a Portland State-led partnership with the University of Oregon, Oregon Institute of Technology, University of Utah and new partners University of Arizona and University of Texas at Arlington. We pursue our theme — improving mobility of people and goods to build strong communities — through research, education and technology transfer.