Need A Bike Lane? There's an App For That
Posted on July 11, 2011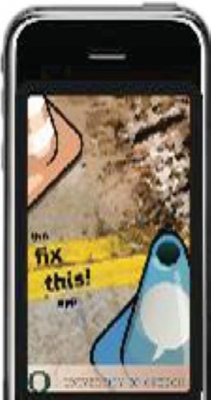 Fixing a community's pedestrian and bicycle infrastructure issues could be as simple as turning on one's smart phone in the future. At least that's the hope of OTREC researchers Marc Schlossberg, Ken Kato, Dana Maher, Cody Evers, and Christo Brehm of the University of Oregon.
In the report, Transportation Planning Through Mobile Mapping (Read The Full Report Here), researchers developed and tested the Fix This Tool, a smart phone application that allows community members to assess problems within their transportation environment. The goal was to create a tool that could be affordably distributed to communities across the country so pedestrians and cyclists can actively participate in improving their means of transportation.
As the desire for reduced carbon emissions, reduced congestion, and reduced public spending on transportation infrastructure grows, many state and local governments are looking to encourage walking and bicycling in their communities as an alternative to cars. However, current data on pedestrian and bike networks are limited and there is little understanding on what constitutes appropriate bike and pedestrian infrastructure. To remedy this, local governments must engage residents to find out challenges current users face and what infrastructure is needed to increase biking and walking by residents.
Previous OTREC research developed a tool built on a GIS platform (using ArcPad GIS)  to engage residents in data collection of their walking and biking environments. While successful for data collection and facilitating community conversations, the technology was cost prohibitive since it required use of a PDA and technical training of community members. By being easily downloaded to a device many residents already have, a smart phone, The Fix This Tool attempts to overcome distribution and cost barriers faced by an ArcPad-based platform, according to researchers.
Using Google Maps as a backdrop, The Fix This Tool allows users to record the presence of problems such as glass in a bike lane, near misses, or dangerous crossings on-the-go using their smart phone (iPhones were used during the project).  Problems, as well as positive observations are recorded on the application through a short survey, which can then be instantly uploaded to a community map for city officials and the general public to use to make community improvements. Beyond being able to report physical issues with street signs and roads, users can also report areas where they feel unsafe because of poor lighting and other more emotional reactions. Positive observations are noted on the map using green traffic cone symbols, negative observations with red cones and neutral observations with blue cones. In the study, device-testers needed little-to-no help figuring out the program, which was very user-friendly, according to the report.
Twenty-five student volunteers tested the application over an area of about five square miles during a four week study period. During that time, 307 data points were recorded, 41 percent of which were negative, 22 percent good and 13 percent neutral. Costs to a community looking to use the Fix This Tool were found to be significantly less than the previous GIS-based approach, since the Tool relies on smart phones already in the hands of the public.
While there will be challenges for agency officials and researchers to understand and utilize data from an approach like the Fix-This Tool, it has tremendous potential, according to researchers. The Fix This Tool could be one way that communities and transportation planning and engineering professionals can engage residents to collect relevant transportation data, and begin to improve pedestrian and bicycling infrastructure.
Share this: