The NITC Guide to the 2019 Transportation Research Board (TRB) Conference
Posted on January 3, 2019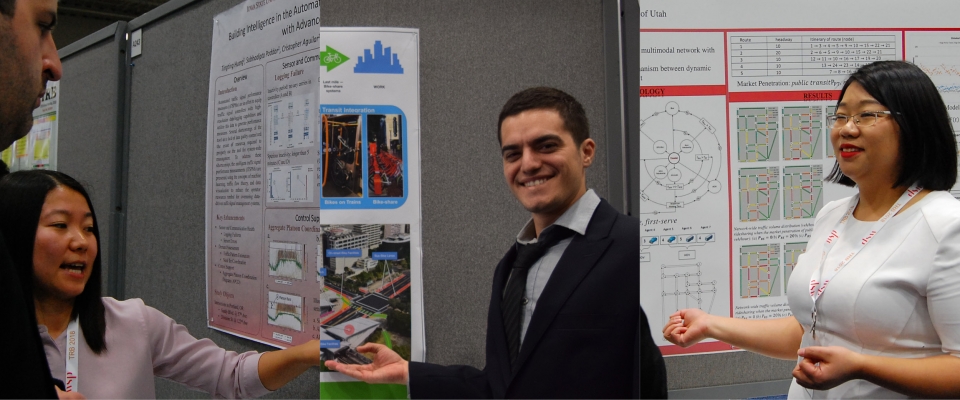 This page serves as a homebase for our coverage of the 2019 Transportation Research Board (TRB) annual conference. Check back here for ongoing updates, as well as our Twitter and Facebook.
NITC GUIDE TO TRB (PDF): Our printable schedule of where all of our NITC researchers will be presenting at lectures, poster sessions, and workshops

NITC RECEPTION AT TRB: Join us for transportation bingo and networking on Tuesday, January 15 (7:30–10:30pm) nearby at Fado Irish Pub

NITC STUDENT AWARD AT CUTC BANQUET: We'll be celebrating our 2018 NITC "Student of the Year,"  Travis Glick of Portland State University, at the annual CUTC Banquet. Travis is a NITC scholar and graduate research assistant, and will present work in three TRB sessions.
MULTI-UNIVERSITY COLLABORATIVE PROJECT HIGHLIGHTS:
UNIVERSITY OF ARIZONA, PORTLAND STATE UNIVERSITY, AND UNIVERSITY OF OREGON
Transport-Oriented Development: Land Values and Travel Impacts Lectern Session on Monday, January 14 (3:45pm–5:30pm)
Gabriella Abou-Zeid (UA), Kristina M Currans (UA), Kelly Clifton (PSU) and Amanda Howell (UO) will present "Improving Transportation Impact Analyses for Affordable Housing Developments: A Data Collection and Analysis of Trip Generation Data." Learn more about NITC research into improving trip generation in Kristina Currans' doctoral work and the context-specific modeling work led by Kelly Clifton.

UNIVERSITY OF OREGON AND OREGON INSTITUTE OF TECHNOLOGY
Bicycle Transportation Research Poster Session on Wednesday, January 16 (10:15am–12:00pm)
Marc Schlossberg (UO), John Rowell (UO), Roger Lindgren (Oregon Tech) and Dave Amos (Oregon Tech) will present "Rethinking Streets for People on Bikes: An Evidence-Based, Visual Guide of Completed Street Retrofits." Can't wait for the new NITC-funded guidebook coming out next month? Check out the earlier edition of the "Rethinking Streets" design manual.
MORE NITC AT TRB HIGHLIGHTS:
UNIVERSITY OF TEXAS AT ARLINGTON
Location, Travel Behavior, and Environmental Justice Lectern Session on Tuesday, January 15 (3:45pm–5:30pm)
Noelle Fields, Courtney Cronley, Stephen Mattingly, Erin R Murphy and Vivian J Miller will present "You Are Really At Their Mercy": Examining The Relationship Between Transportation Disadvantage And Social Exclusion Among Older Adults Through The Use Of Innovative Technology."
2019 BY THE NUMBERS: NITC Researchers at TRB
Numbers represent involvement of faculty and researchers at NITC-funded universities. Download our printable guide to where our NITC researchers will be presenting here.
100+ researchers from NITC-funded universities contributed to the program.

114 papers were accepted for presentation at the conference, in

44 lectern presentations;

58 posters; and

5 workshops.

Staff and researchers will preside over 14 meetings at the conference.

We're supporting the attendance of over 60 students to the annual meeting. Of the students attending, 52 are presenting work at the conference.
The National Institute for Transportation and Communities (NITC), one of five U.S. Department of Transportation national university transportation centers, is a program of the Transportation Research and Education Center (TREC) at Portland State University. The NITC program is a Portland State-led partnership with the University of Oregon, Oregon Institute of Technology, University of Utah and new partners University of Arizona and University of Texas at Arlington. We pursue our theme — improving mobility of people and goods to build strong communities — through research, education and technology transfer.
Share this: