NITC Researchers Will Fuse Multiple Data Sources to Count Bikes
Posted on November 1, 2018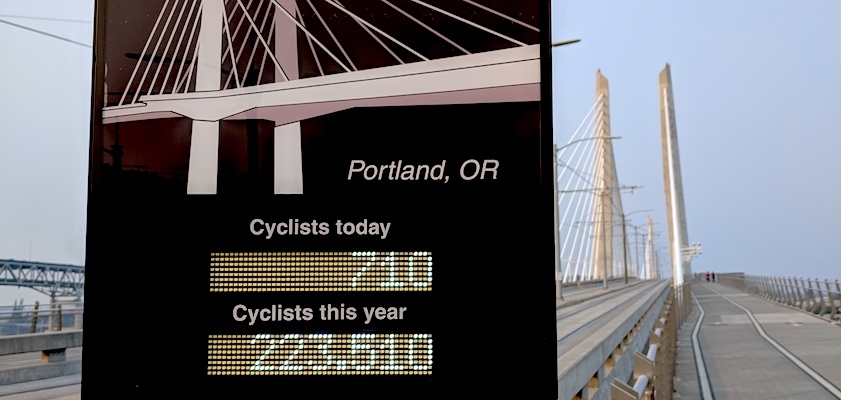 BIKE/PED COUNT SURVEY: CALL FOR INPUT
Researchers at Portland State University, University of Texas at Arlington, University of North Carolina at Chapel Hill and Toole Design Group are conducting a scan to identify locations where bicycle counts are taking place around North America, and hope to enlist your help! If you collect bike count data (or oversee counts) in your jurisdiction, please consider taking our quick survey to tell us a little bit about your count locations and data.
The survey can be accessed here: tinyurl.com/BikeCounterScan
THE NEW PROJECT
Active transportation modes such as bicycling are associated with benefits like lower congestion and emission levels, and improvements in public health. Many cities are interested in increasing bicycle activity, but in order to understand what works, cities require accurate accounting of bicycle traffic. This requires re-thinking the way we conduct estimation methods, data inputs, and modeling techniques.
To that end, a group of local agency partners pooled resources to fund the research project: Exploring Data Fusion Techniques to Derive Bicycle Volumes on a Network. With NITC matching funds, the project is supported by a pooled fund grant of $200,000. These partners include the DOT's of Oregon, Virginia, Colorado, Washington D.C. and Utah; Central Lane MPO, and the Cities of Portland and Bend, Oregon.
NITC POOLED FUND GRANT
Earlier this year the National Institute for Transportation and Communities (NITC) released an RFP for a collaborative project that addressed a group of partners' common needs. We ended up selecting two Pooled Fund projects for 2018, and the funds pooled by the agencies were then matched 1:1 by NITC. The research team for the second project, which will explore equity implications of automated transit fare collection methods, will be announced later next month.
THE RESEARCH TEAM
Once the project was chosen for funding, researchers from all six NITC campuses were invited to submit proposals to tackle it. The selected team:
Portland State University
University of Texas at Arlington
THE ISSUE
To date, jurisdictions have often relied on observed counts of cyclists—either short-duration manual or longer-term automated counts—in a limited set of locations. Based on these limited datasets, models are then developed to extrapolate network-wide conditions. Recently, however, new sources of bicycling activity data have emerged from GPS-based smartphone apps—Strava, Ride Report, Map My Ride, and others—and GPS-enabled public bike sharing systems. These emerging data sources have potential advantages as a complement to traditional count data, since they are collected continuously and for larger portions of the bicycle network. However, the representativeness of these new data sources is still uncertain, and their suitability for producing bicycle volume estimates has yet to be rigorously explored.
RESEARCH OBJECTIVES
The research team aims to evaluate, demonstrate, and document the potential of emerging data sources to inform network-wide bicycle volume estimates. Research questions include:
What third-party bicycle volume and route data are available to augment conventional count data, and how have they been used to date?
How can we evaluate these emerging data sources for factors such as accuracy, coverage, completeness, and representativeness?
How can we combine emerging third-party and conventional data sources to estimate bicycle volumes across entire networks?
What relative marginal value do different data sources and model forms add in predicting bicycle volumes relative to acquisition and processing costs?
ANTICIPATED OUTCOMES OF THE RESEARCH
A review of existing bicycle volume estimation methods and a catalog of potential third-party data sources and applications to date;
Evaluation of emerging third-party bicycle data sources as inputs into network-wide volume estimation;
Demonstration of the development, application, and validation of models that combine multiple data sources to improve predict bicycle volumes network-wide;
Comparison of the relative value of different data sources and modeling techniques in bicycle volume estimation; and,
Documentation and packaging of methods developed for sharing and re-use by others, including making available scripts used in the analysis on GitHub or other open source repository.
WHAT'S NEXT?
This project stands to bring significant improvements to the completeness and reliability of bicycle counts, which will in turn help planners and engineers design routes and networks to best meet the needs of transportation system users. We will post updates over the next year or two, as the project unfolds.
This research was funded by the National Institute for Transportation and Communities, with additional support from Oregon DOT, Virginia DOT, Colorado DOT, Washington D.C. DOT, Utah DOT, Central Lane MPO, the City of Portland, Oregon and the City of Bend, Oregon; and from Portland State University and the University of Texas at Arlington.
RELATED RESEARCH
To learn more about this and other transportation research, sign up for our monthly newsletter.
The National Institute for Transportation and Communities (NITC), one of five U.S. Department of Transportation national university transportation centers, is a program of the Transportation Research and Education Center (TREC) at Portland State University. The NITC program is a Portland State-led partnership with the University of Oregon, Oregon Institute of Technology, University of Utah and new partners University of Arizona and University of Texas at Arlington. We pursue our theme — improving mobility of people and goods to build strong communities — through research, education and technology transfer.
Share this: