One Step at a Time: Teach Students Pedestrian Observation in the Field
Posted on June 20, 2018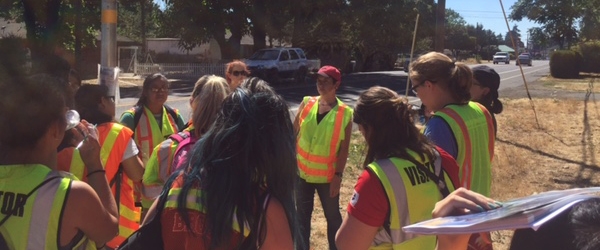 Jennifer Dill
, Portland State University, and Tara Goddard, Texas A&M University
---
We've got a new curriculum guidebook for undergraduate and graduate students in transportation: a comprehensive set of class exercises to learn pedestrian observation and data collection strategies.
Addressing the challenges of an evolving transportation industry means embracing the study of non-motorized travel and preparing the new workforce for it. Funded by our university research consortium National Institute for Transportation and Communities (NITC), this guidebook was designed to enable instructors with little or no experience to integrate pedestrian-related curriculum into their teaching. While accessibility is a key feature, the guidebook combines both new and existing resources into one comprehensive set of learning modules for more experienced instructors. 
These pedestrian observation strategies not only benefit university faculty and their students, but they can also serve local agencies. Jurisdictions are often interested in partnering with university classes on data collection, but time constraints can make planning and execution of projects time-prohibitive. This curriculum guidebook offers simple strategies for standardizing the data to make it useful for local agencies.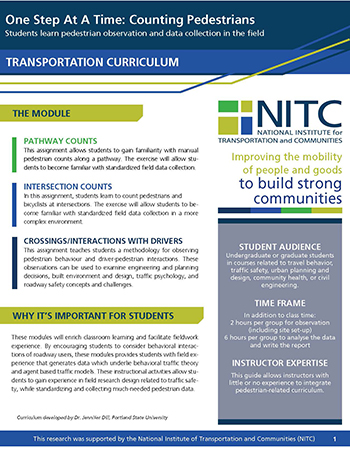 The class exercises are suitable for students in courses related to travel behavior, traffic safety, urban planning and design, community health, or civil engineering. They include activities developed through this project as well as an extensive set of educational materials drawn from online resources.
This guidebook includes:
Assignments 
Example syllabi
Readings for students
Detailed instructions for how to choose sites and how to design data collection forms
Lecture slides
A wealth of literature on the subject areas
Developed by Dr. Jennifer Dill of Portland State University and Dr. Tara Goddard of Texas A&M, the modules serve a dual purpose: supporting students with field research design experience in non-motorized traffic safety, while also standardizing and collecting much-needed pedestrian data.
This research was funded by the National Institute for Transportation and Communities, with additional support from the Summit Foundation.
RELATED RESEARCH
To learn more about this and other NITC research, sign up for our monthly research newsletter.
The National Institute for Transportation and Communities (NITC), one of five U.S. Department of Transportation national university transportation centers, is a program of the Transportation Research and Education Center (TREC) at Portland State University. The NITC program is a Portland State-led partnership with the University of Oregon, Oregon Institute of Technology, University of Utah and new partners University of Arizona and University of Texas at Arlington. We pursue our theme — improving mobility of people and goods to build strong communities — through research, education and technology transfer.
Share this: