Oregon Tech students meet with Congressman Greg Walden at TRB
Posted on January 25, 2017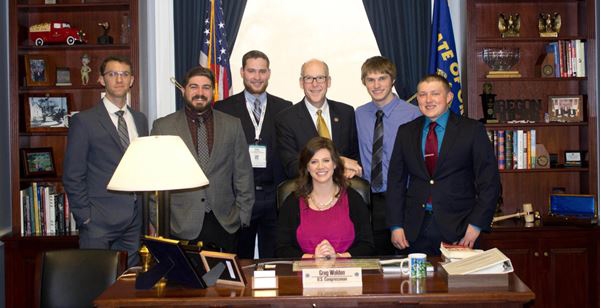 Six students in the Institute of Transportation Engineers (ITE) Student Chapter of the Oregon Institute of Technology had an in-person meeting earlier this month with Congressman Greg Walden, Representative of the 2nd District of Oregon.
The students, along with Faculty Advisor Dr. Roger Lindgren, were in Washington DC attending the 2017 Transportation Research Board (TRB) Annual Meeting. Funding for the student travel was provided by NITC.
Students Andrew Wixon, Alex Antonaras, Ryan Kelly, Kevin Baker, Jason Millar and Jordan Preston had the opportunity for a brief conversation with the congressman as part of their TRB experience. Students at Oregon Tech have a strong tradition of participating in NITC projects and events.
Oregon Tech has partnered with the university transportation center at Portland State since its 2006 inception as OTREC, and continues this collaboration by being a part of the expanded NITC program grant established in 2016.
The ITE student chapter at Oregon Tech, since its establishment in 2002, has provided its student members with a variety of transportation learning activities including field tours, webinars, traffic bowl participation and travel to conferences.
One of the group's main priorities is putting engineering students in contact with practicing engineers and real-world projects. Additionally, many Oregon Tech students have gained practical experience assisting NITC researchers with projects.
NITC is proud to sponsor these educational opportunities for the next generation of transportation professionals.
Share this: