PSU graduate students make a good showing at Western ITE conference
Posted on July 25, 2013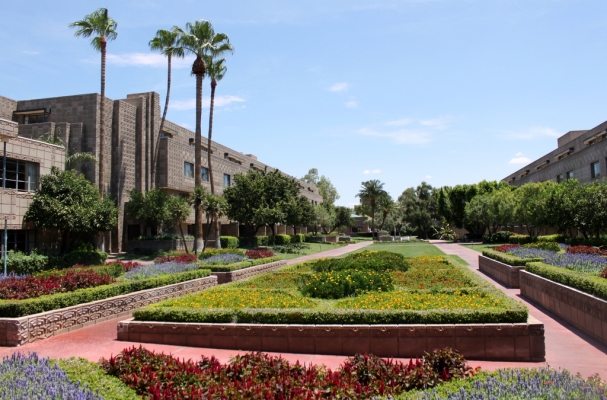 OTREC was well-represented at this year's Western ITE conference, the 2013 conference for the Western District of the Institute of Transportation Engineers. Eight graduate student researchers presented papers at the conference, which took place July 14 through 17 in Phoenix, Arizona.
Portland State University students Katherine Bell, Kirk Paulsen, Adam Moore, Wei Feng, Sirisha Kothuri, Pamela Johnson, Sam Thompson and Alex Bigazzi attended the three-day conference and showcased their work in transportation research.
The conference was held at the Arizona Biltmore, a 1920's luxury hotel created by architects Albert Chase McArthur and Frank Lloyd Wright. For the engineering and planning students, the Biltmore held its own attraction as an example of unique architecture, and in between events they enjoyed walking the grounds. 
Katherine Bell, a Master's student whose research interests include planning, modeling and performance measures for freight, gave a presentation on the use of a smart phone application with a GPS device for freight data collection. This was her second time presenting at the Western ITE conference, and the presentation she gave this year was an extension on last year's. At the 2012 conference she had presented preliminary progress from the smart phone project, and this year she gave a more detailed look at the potential use of the data for emission estimates. The smart phone application was developed by ODOT, the Oregon Department of Transportation, and is called "Truck Road Use Electronics" or TRUE.
Kirk Paulsen presented "A Comparison of Bicyclists' Performance Characteristics at Urban, Surburban, and Dedicated Path Intersections in Oregon," and wrote a blog entry about the conference for Students in Transportation Engineering and Planning (STEP), Portland State University's ITE student chapter.
Alex Bigazzi, a Ph.D. student in the Civil and Environmental Engineering department, spoke about a device he has developed for measuring bicyclists' exposure to air pollution. In his paper "Portland Ace: A low-cost mobile device for assessing bicyclists' exposure to air pollution," he describes the light-weight, low-power unit which can be attached to any bicycle and collects sensor information on travel (location, speed, acceleration), physiology (heart rate), traffic (passing vehicles), and air quality (organic compounds, particulate matter).
Wei Feng, who received his bachelor's and master's degrees at Beijing Jiaotong University in China, is currently pursuing a Ph.D. in Transportation Engineering at PSU. He presented a paper called "Empirical Evaluation of Transit Signal Priority Effectiveness and Efficiency." Transit signal priority, or TSP, is an adaptive traffic system which gives signal priority to buses in order to improve service times. Wei's research interests include public transportation operations and reliability analysis, fleet management modeling and optimization.
Sirisha Kothuri, an OTREC researcher and recently-named NITC dissertation fellow, presented "Development of Pedestrian Responsive Signal Timing Strategies: A Pilot Study from Portland, Oregon." Sirisha is a Ph.D. candidate whose research focuses heavily on improving the wait times for pedestrians at traffic signals.
Pamela Johnson presented her paper "What to Consider when Developing a Statewide Bicycle Traffic Monitoring System," in which she spoke about the effects of weather on cycling demand and its implications for data collection efforts.
Sam Thompson, whose thesis includes a survey of existing bike signals in the United States and Canada, offered a paper titled "A Study of Bicycle Signal Compliance Employing Video Footage."
Adam Moore's presentation, ""Impacts of Traffic Levels on Mid-Block Air Quality: Progress Report," covered some of the work he and other OTREC researchers have been doing on Powell Boulevard, an arterial corridor in Southeast Portland. The research involves measuring roadside air pollutants using a variety of instruments and data sources, and Moore gave some of the preliminary findings from this project in his talk.
The Institute of Transportation Engineers (ITE) is a professional society of more than 15,000 transportation engineers, planners and other professionals in some 80 countries. The Western District represents the 13 western states from the Rocky Mountains to the Pacific coast. The conference is held each year in order to promote professional development of members, support and encourage education, stimulate research, develop public awareness, and establish a forum for exchanging professional information. 
Share this: