Rethinking Streets for Physical Distancing
Posted on March 3, 2021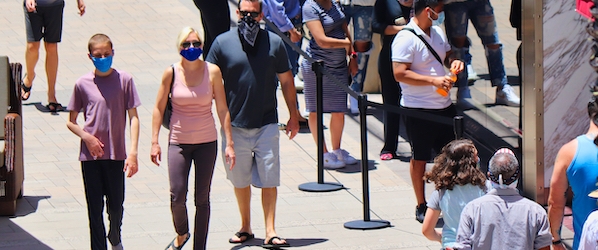 Rethinking Streets for Physical Distancing, the third in our "Rethinking Streets" book series, has been released. The book offers 25 case studies from a broad swath of U.S. cities with a handful of international examples of streets that were redesigned to better accommodate people during the COVID-19 pandemic. Rethinking Streets is a design guidebook series produced by NITC researchers at the University of Oregon, led by Marc Schlossberg. The three books are:
These full-color design guides have proven popular with planners and engineers across the country for their attractive, accessible sources of "complete streets" inspiration, and their impacts have even begun to spread beyond the United States. 
Register for the April 6, 2021 webinar with Marc Schlossberg to learn more about the new guidebook.
WHAT'S IN THE THIRD INSTALLMENT
Re-allocating space on streets to accommodate new uses – particularly for walking, biking, and being – is not new. However, COVID-era needs have accelerated the process that most communities use to make such street transitions. Over the course of 2020, many communities quickly understood that the street is actually a public place and a public good that serves broader public needs – needs that may be more urgent than the free flow or the storage of private vehicles. 
Rethinking Streets for Physical Distancing, therefore, is meant to capture some of these quick changes to city streets due to COVID. The authors hope to show a broader audience how the street – a public resource – can be used differently and change can be implemented quickly. The book is divided into five sections, which are listed below along with an example of the type of project found in each.
CHAPTER 1: LET'S GET ROLLING: BIKEWAYS
This section presents an overview of pop-up bicycle facilities like temporary protected bike lanes, many of which were successful enough to lead to permanent installation.
For example, one case study looks at protected bike lanes on Carrera 7, one of Bogotá, Colombia's busiest streets, which were installed in March 2020 with traffic cones and temporary barricades. The success of this facility led the City to make it stick, providing a permanent protected bike lane to keep workers safe and expand the bicycle network.
CHAPTER 2: WHY DON'T WE DO IT IN THE ROAD: SLOW STREETS
At the beginning of the stay-at-home orders in March 2020, many cities used temporary, tactical-urbanism style infrastructure such as barricades, cones, and signage to slow automobile traffic on certain streets.
For example, one case study looks at the rapid implementation of an open street on New Orleans' Moss Street, which allowed people more room to walk, bike, run, and play.
CHAPTER 3: LET'S DINE OUT: STREETS FOR DINING
With restaurants closed to prevent the spread of the coronavirus, many cities chose to open up sections of street space for safe-distance outdoor dining. This section presents case study examples of streets being converted into al fresco dining environments.
For example, on South First Avenue in Walla Walla, Washington, the City installed concrete planters to close a segment of the street for cars and bring in tables, chairs, umbrellas, planters and light strands, encouraging community members to enjoy food and drink from local restaurants.
CHAPTER 4: GET ACTIVE: PUBLIC PROMENADES
This section presents example of ad-hoc plazas and pedestrian malls which were created by barricading busy streets and rerouting automobile traffic to allow people to use the space.
For example, in May 2020, a coalition of local public agencies in Hampton, New Hampshire installed barricades to open up Ocean Boulevard, a major thoroughfare, into a seaside walking mall for mobility, recreation, and business.
CHAPTER 5: LOOK WHO'S FLEXING NOW: THE CURB
This section shows examples of the rapid repurposing of curb space to make room for temporary loading zones, to facilitate deliveries and provide curbside pickup space for restaurants and stores.
For example, in March 2020, the City of Alexandria, Virginia suspended parking regulations on King Street to support the flow of goods and services.
ABOUT THE AUTHORS
Marc Schlossberg is a Professor of community and regional planning and co-Director of the Sustainable Cities Institute at the University of Oregon. He is a two-time Fulbright Scholar who focuses on the re-design of cities to make walking, biking, scooting, and transiting the default transportation mode for more people more of the time. 
Rebecca Lewis is an Associate Professor in Planning, Public Policy and Management and co-Director of the Institute for Policy Research and Engagement at the University of Oregon. She studies land use policy, transportation finance, and the nexus of land use, transportation, housing and climate change. 
The researchers were supported by a team of UO student authors: Aliza Whalen, Clare Haley, Danielle Lewis, Natalie Kataoka and John Larson-Friend. Recently, the University of Oregon team of authors shared their favorite streets from across the globe. 
PROJECT INFORMATION
This research was funded by the National Institute for Transportation and Communities, with additional support from the University of Oregon.
RELATED RESEARCH
To learn more about this and other NITC research, sign up for our monthly research newsletter.
The National Institute for Transportation and Communities (NITC) is one of seven U.S. Department of Transportation national university transportation centers. NITC is a program of the Transportation Research and Education Center (TREC) at Portland State University. This PSU-led research partnership also includes the Oregon Institute of Technology, University of Arizona, University of Oregon, University of Texas at Arlington and University of Utah. We pursue our theme — improving mobility of people and goods to build strong communities — through research, education and technology transfer.
Photo by RoamingPanda/iStock
Share this: