Student Spotlight: Natasha Karan, Oregon Institute of Technology
Posted on March 1, 2021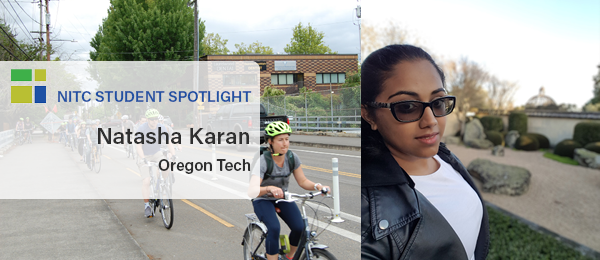 Natasha Karan is a civil engineering graduate student. She received her B.S. in civil engineering from Oregon Institute of Technology in 2020. During her time at OIT, she has been involved in student clubs such as ASCE, ITE, and Tau Beta Pi. Currently she is pursuing her M.S. at Oregon Tech, working on a post-evaluation of implementing protected bicycle lanes. Natasha is interested in learning about the effects caused by the implementation of safe, inclusive active transportation infrastructure in a community.
---
Tell us about yourself?
I'm from Coos Bay, OR and I am attending Oregon Tech in Klamath Falls, OR in order to earn my bachelors and master's degree in civil engineering. Currently, I am on track to earn my masters degrees in 2021. Throughout my college years, I've gained a significant interest in the transportation field, especially through the classes that I have taken and the events that I have attended through the Institute of Transportation Engineers club.
What (or who) has influenced your career path in transportation?
My career path in transportation was influenced by learning about and experiencing the state of the United States' current transportation system. The United States is one of the leading nations in the world however it lacks initiative in the transportation area, especially regarding public transportation. I would attribute my interest in transportation to the professors who lectured on this subject. Because of my professors, I have learned a lot about differences in transportation worldwide and would like to see the implementation of some of these design aspects into the transportation system here.
You're working on a post-implementation evaluation of protected bike lanes for your graduate project. Tell us about that research?
My graduate project revolves around the evaluation of the post implementation of protected bicycle lanes in the city of Klamath Falls. The project evaluates the effects (social, safety, etc.) that the bicycle lanes have had on the surrounding neighborhood. In order to evaluate these aspects, I have surveyed the nearby residents and stores, recorded video footage for bicycle ridership count and bicycle-vehicle interactions, and gathered before and after vehicle speed data to provide further analysis of the implementation.
After graduation, what future work do you envision doing in transportation?
In the future, I envision working on multimodal transportation design. I want to work towards promoting public transportation especially in smaller cities where the public transportation sector is neglected. In my career, I would like to improve the conditions and popularity of public transportation.
This is an installment in a series of monthly Student Spotlights we're shining on students and alumni that are involved with National Institute for Transportation & Communites (NITC) universities. NITC is a university transportation consortium funded by the U.S. DOT, and is a Portland State-led partnership with the University of Oregon, Oregon Institute of Technology, University of Utah, University of Arizona, and University of Texas at Arlington.
Share this: