Student Spotlight: 2019 NITC Student of the Year - Samuel Jensen, University of Arizona
Posted on December 18, 2019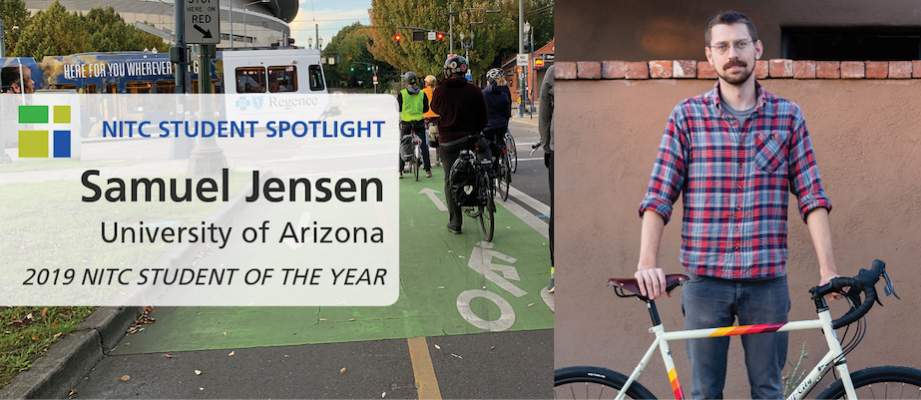 Samuel Jensen is a planning masters student at the University of Arizona. He has been selected as the 2019 NITC Student of the Year, and will be presented with the award at the Council of University Transportation Centers banquet at the annual meeting of the Transportation Research Board in January 2020. He will present research on "An Inventory of Bus Stop Amenities Guidelines at U.S. Transit Agencies" at TRB, in the Bus Transit Research and Practices poster session. Samuel's interest in transportation developed through his work as an advocate for transit justice. He also serves as the president of Graduate Planning Society, UA's planning student group, and as vice-chair of the city of Tucson's Pedestrian Advisory Committee.
---
Tell us about yourself?
I'm a somewhat non traditional masters student with a background in transportation and social justice/community organizing. I'm currently studying at the University of Arizona where I'm assisting with separate research projects in the areas of bus transit and walkability. I also serve as the president of our planning student organization, Graduate Planning Society, and vice-chair of the city of Tucson's Pedestrian Advisory Committee. Before starting grad school I worked for Metro Transit in Minneapolis where I had an opportunity to work in a number of different areas including as a bus driver and dispatcher, and in street operations (detours, special events, etc). I've had a number of other transportation related jobs including an Americorps stint running a bike coop in Iowa City, working as an assistant train conductor in Denmark, a community organizing job in transportation and neighborhood issues in St. Paul, and starting a transit riders union in Milwaukee. My bachelors education is in urban planning with a focus on issues of equity and racial justice, something that I've long been passionate about. Outside of work and school I spend a lot of time on my bike riding the beautiful trail network we have here in Tucson and camping with my partner.
What (or who) has influenced your career path in transportation?
While I've always been a dorky kid interested in planning and transportation, my focus on social justice and transportation equity was really heavily influenced by my experience helping to start the Milwaukee Transit Riders Union as I was finishing up high school. Through organizing fellow bus riders to fight service cuts I was able to learn a lot about the intricacies of running a large transit system, local government budget processes, and how transportation is a major social justice issue. I was also able to connect with veteran community organizers and racial justice advocates who would end up being mentors and even had the opportunity to spend a week in Los Angeles learning from their incredible Bus Riders Union.
Tell us about the research you're currently working on?
I'm currently working on a few different NITC projects at the University of Arizona. The main one is a survey of bus stop amenity (shelters, benches, etc) guidelines at large transit agencies here in the U.S. that I'm working on with Professor Arlie Adkins. Bus shelters and other on-street amenities have a major impact on the rider experience and also are one of the few things that represent transit systems for non-riders. While we know they're super important, they're often installed unevenly or in response to complaints. By reviewing these guidelines, we've been able to identify best practices that can help transit agencies deploy their infrastructure in a more equitable, systematic way. Our paper was recently accepted for presentation at the 2020 TRB conference, which is really exciting.
After earning your Masters in Urban Planning, what future work do you envision doing in transportation?
Even though I only have a few months left of my masters program, I'm still trying to figure out what I want to be when I grow up. Ideally, I'm hoping to gain some experience working in either bike/ped or transit planning here in Tucson before eventually pursuing a Phd in the field. We have an amazing group of bicycle and pedestrian planners here in Tucson doing innovative work under the radar building a network of bike boulevards and protected lanes and it would be really exciting to be able to be a part of that in a professional capacity.
This is an installment in a series of monthly Student Spotlights we're shining on students and alumni that are involved with National Institute for Transportation & Communites (NITC) universities. NITC is a university transportation consortium funded by the U.S. DOT, and is a Portland State-led partnership with the University of Oregon, Oregon Institute of Technology, University of Utah, University of Arizona, and University of Texas at Arlington.
Share this: