Student Spotlight: Adrian Cottam, University of Arizona
Posted on May 1, 2019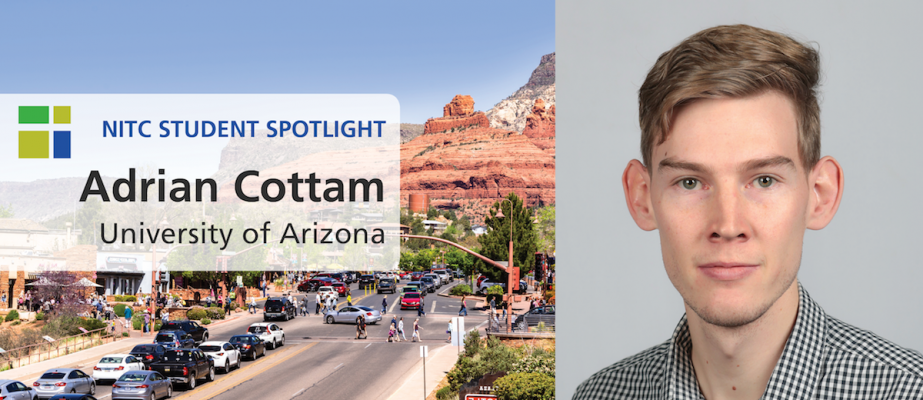 Adrian Cottam, University of Arizona
Adrian Cottam is a second year masters student in civil engineering at the University of Arizona. He is a graduate research assistant in the Smart Transportation Lab working under NITC researcher Yao-Jan Wu, and is also an officer in the Institute of Transportation Engineers (ITE) University of Arizona student chapter.
---
Tell us about yourself?
My name is Adrian Cottam and I am 22 years old. I was born in Tucson, Arizona and have lived there almost my whole life. I was homeschooled for my entire schooling up through high school, which I graduated from at 16 years old. I received my associates degree from Pima Community College in 2016, and continued on to receive my bachelors of science from the University of Arizona in 2018. I am now finishing up my masters degree in Transportation Engineering in May 2019 at the University of Arizona, where I have already started on my Ph.D. When I'm not in the lab I like to go hiking and hang out with friends, or travel. I love to travel, and I have visited 6 other countries so far.
What (or who) has influenced your career path in transportation?
I have always been passionate about STEM related fields, and my collegiate career has helped guide my interest towards transportation engineering. I largely have my professor, Dr. Yao-Jan Wu, to thank for my love of transportation. In my junior year of my bachelors degree I didn't even know transportation engineering was a field, but I took Dr. Wu's Introduction to Transportation class and instantly knew it was what I wanted to pursue. I think what I love most about transportation engineering is it is a field that takes traditional aspects from civil engineering, and melds them with topics from computer science and data science. It is very rewarding because you can make a change to the traffic network and see tangible improvement benefitting thousands of people.
Tell us about your work in Dr. Yao-Jan Wu's Smart Transportation research lab?
I started working under Dr. Wu in his Smart Transportation Lab in the beginning of 2017 and have enjoyed every minute of it. My role in the lab is the lead of the Tech Team, so I handle most of the programming and software development, and train some more junior students in programming for transportation engineering. My main projects have been for the City of Tucson and the Arizona Department of Transportation (ADOT). I developed a website for the City of Tucson which displays 24/7 lane by lane volume and occupancy data from Tucson's video sensors on the Speedway Blvd corridor. For ADOT I am currently working on a website and a software tool. Every minute the software tool archives real-time speed data from every major roadway in Arizona, loop detector volume and speed data, and cabinet event based data. The website then takes this data and visualizes it so that the ADOT traffic operations team can evaluate their roadway performance as they tune up their ramp meters in Phoenix. When I'm not working on my current projects I like to write papers with my lab partners, and I help as a teacher's assistant for the Introduction to Transportation class.
After graduation, what future work do you envision doing in transportation?
I am not entirely settled on a post-graduation career path yet, but after I finish my Ph.D. I would like to either teach transportation engineering at a university, or work as a data scientist in a transportation related field.
This is an installment in a series of monthly Student Spotlights we'll be shining on students and alumni that are involved with National Institute for Transportation & Communites (NITC) universities. NITC is a university transportation consortium funded by the U.S. DOT, and is a Portland State-led partnership with the University of Oregon, Oregon Institute of Technology, University of Utah, University of Arizona, and University of Texas at Arlington.
Share this: