Student Spotlight: Ash Avila, University of Arizona
Posted on August 4, 2021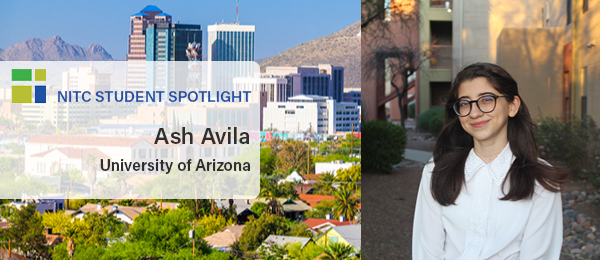 Ash Avila, a 2022 TRB Minority Student Fellow, will be a junior this fall in the Sustainable Built Environment undergraduate program at the University of Arizona. She is working with NITC researchers Ladd Keith, Nicole Iroz-Elardo and Kristina Currans looking at the intersection of transportation and heat as it relates to climate adaptation planning for active travelers. This summer, Ash is working on analyses related to exploring transportation infrastructure and environmental influences of thermal comfort and evaluating some potential mitigations.
Tell us about yourself?
I'm a third year student at the University of Arizona majoring in Sustainable Built Environments with a minor in Spanish. I grew up in a small Southern Arizona border town which led to my interest in urban design, especially in communities with majority Latino populations. In my free time, I work in a small community garden and love to crochet.
What (or who) has influenced your career path in transportation?
Back in my senior year of high school, I became really interested in urban photography and placemaking. I took photographs of my local downtown and downtowns in other cities. From there, I got introduced to Jane Jacobs and urban planning while reading portions of The Death and Life of Great American Cities. I became obsessed with cities and especially transportation because it's such a vital contributor to a community's well-being.
You're working with NITC researchers looking at the interception of transportation and heat, as it relates to climate adaptation planning. Tell us about that work?
This project started off as part of a larger effort to identify heat mitigation strategies at mass COVID-19 vaccination sites. I had the wonderful opportunity to volunteer to take measurements on the ambient air temperature and Wet Bulb Globe Temperature at the University of Arizona vaccination site in March 2021. An early finding from these measurements showed that the presence of idling vehicles may substantially increase heat risk during the 15-minute post-vaccination observation period. In our paper we wanted to explore how the presence of vehicles influenced personal heat exposure at a human scale. This all connects back to how we plan our cities and ensure that everyone within our communities is able to travel safely without excessive heat risk among other things.
After graduation, what future work do you envision doing in transportation?
I love so many aspects of transportation. I've felt really excited about light rail and streetcars recently. Rail transit in general is so exciting! I'm also a big fan of buses, especially the SunTran in Tucson. I would love to work in a place where I could improve transit connectivity and work on any sort of active transportation planning. Having worked in research at the University of Arizona makes me really interested in academia and paper writing, though. I love being able to work with data to show how a certain road change is influencing traffic or how vehicles can affect a person's heat risk.
Photo by Sean Pavone/iStock
This is an installment in a series of monthly Student Spotlights we're shining on students and alumni that are involved with National Institute for Transportation & Communities (NITC) universities. NITC is a university transportation consortium funded by the U.S. DOT, and is a Portland State-led partnership with the University of Oregon, Oregon Institute of Technology, University of Utah, University of Arizona, and University of Texas at Arlington.
Share this: