Student Spotlight: Brandon Siracuse, University of Utah
Posted on July 6, 2021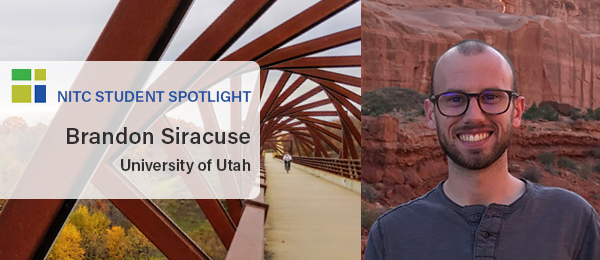 Brandon Siracuse recently earned his master's degree in city and metropolitan planning from the University of Utah. While at the U of Utah he worked as a research assistant, earned a NITC scholarship, and served as an officer in the university's transportation student group, Point B. As of June 2021, he now works as a planner for the City of Council Bluffs, IA. Before enrolling in his master's program, Brandon worked as a full-time intern at the Washington University Medical Center Redevelopment Corporation in St. Louis, where he primarily did GIS work and data analysis to aid in the nonprofit organization's community planning efforts. Brandon is interested in land use, transportation, and the intersection of the two, and is particularly passionate about active transportation.
Connect with Brandon on LinkedIn
Tell us about yourself?
I am originally from Omaha, NE, and I have also had the great privilege of getting to live in St. Louis and Salt Lake City. I got my undergraduate degree in Environmental Science from Saint Louis University, and while I was there I realized I wanted to become an urban planner. I recently graduated from the Master of City and Metropolitan Planning program at the University of Utah, where I served as secretary and then treasurer of Point B, the U's student transportation group. When I'm not doing urban planning work, I love to enjoy the outdoors, go for bike rides, and cook.
What (or who) has influenced your career path in transportation?
So many people and things have led me to get involved with transportation planning, but I have to give special recognition to Dr. Ben Looker, a professor at SLU who taught an elective I took called "The Urban Crisis." The class was not directly about transportation or planning, but it got me interested in finding a career that would enable me to help make cities better places and maybe even right the wrongs of past policy decisions. I discovered urban planning as a career while taking this course with Dr. Looker, and I quickly oriented myself toward transportation planning because I have believed for a long time that better transportation is a key part of sustainable communities.
You worked on the NITC-funded project "Scooting to a New Era in Active Transportation: Examining the Use and Safety of E-Scooters" - Tell us about your work on that research?
This project is a collaboration between researchers at the University of Utah and the University of Arizona. I assisted on this project for a while, then during the second year of my master's program I had the opportunity to take the lead on the Utah portion of the project. I helped organize and perform observations of e-scooters riders and other intersection users at various locations around downtown Salt Lake City, and we are using the data to determine whether different intersection configurations (e.g. bike lane vs. no bike lane) affect the rates of "non-optimal" behaviors among e-scooter riders.
Now that you've graduated, what future work do you envision doing in transportation?
I recently took a new job as a planner with the City of Council Bluffs, IA, and while I am not going to be working strictly on transportation, I do hope to assist with city transportation projects and policies whenever possible, especially those that promote active transportation and supportive land uses. Longer term, I would love to land a job that would let me work directly in active transportation planning, in either the public or private sector. In the meantime, I will also do my best to get involved in active transportation and transit advocacy here in the Omaha-Council Bluffs region.
This is an installment in a series of monthly Student Spotlights we're shining on students and alumni that are involved with National Institute for Transportation & Communities (NITC) universities. NITC is a university transportation consortium funded by the U.S. DOT, and is a Portland State-led partnership with the University of Oregon, Oregon Institute of Technology, University of Utah, University of Arizona, and University of Texas at Arlington.
Photo by Allison Cherry/iStock
Share this: