NITC Dissertation Fellow Shiloh Deitz Works to Fill Data Gaps for Accessible Navigating
Posted on July 2, 2021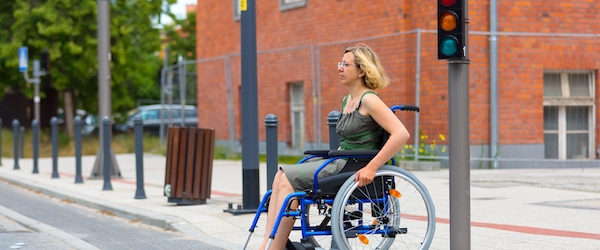 We're proud to announce the publication of a new NITC dissertation: "Free Movement: Enhancing Open Data To Facilitate Independent Travel For Persons With Disabilities," by Shiloh Deitz of the University of Oregon.
"In this project, I found that across the United States there is a lack of both data for accessible pedestrian routing and tools for filling in those data. AI methods have contributed to filling in missing data for applications like autonomous vehicles but much less often to intervene in quality of life improvements. Critical geoAI, that is, bringing a critical geographic lens to artificial intelligence applications, has the potential to contribute to the amelioration of these data and analytic gaps," Deitz said.
Nearly 40 million Americans report a disability, and of this population, 70 percent travel less because of the challenges they face. When they do travel, those with limited mobility are more likely to be pedestrians or public transit users. Today, free commercial routing applications such as Google Maps offer a robust suite of tools for the able-bodied public to walk, ride bikes, take public transportation, or hail a taxi. Yet, such tools for persons with limited mobility to determine a safe and perhaps even pleasant urban route are experimental, limited, and only available in select cities (e.g. accessmap.io, chisafepath.com).
This project intervenes by tackling the challenge of missing environmental data. First, Deitz assesses a regionally stratified sample of municipalities across the United States on their collection and maintenance of open data on environmental features that impact accessible travel for persons with disabilities. Based on this assessment, she then evaluates options for filling in missing curb ramp data using machine learning and supplemental open data such as open street map, LiDAR, and aerial imagery. Finally, Deitz looks at the relevance and replicability of these GeoAI methods for filling in missing curb ramp data.
Centering the needs of community members with disabilities, this research creates tools for improving mobility, increasing community strength and inclusivity while also critiquing the data driven scientific paradigm.
ABOUT THE PROJECT
Photo by apeyron/iStock
RELATED RESEARCH
To learn more about this and other NITC research, sign up for our monthly research newsletter.
The National Institute for Transportation and Communities (NITC) is one of seven U.S. Department of Transportation national university transportation centers. NITC is a program of the Transportation Research and Education Center (TREC) at Portland State University. This PSU-led research partnership also includes the Oregon Institute of Technology, University of Arizona, University of Oregon, University of Texas at Arlington and University of Utah. We pursue our theme — improving mobility of people and goods to build strong communities — through research, education and technology transfer.
Share this: