Student Spotlight: Byron Head, University of Utah
Posted on October 9, 2019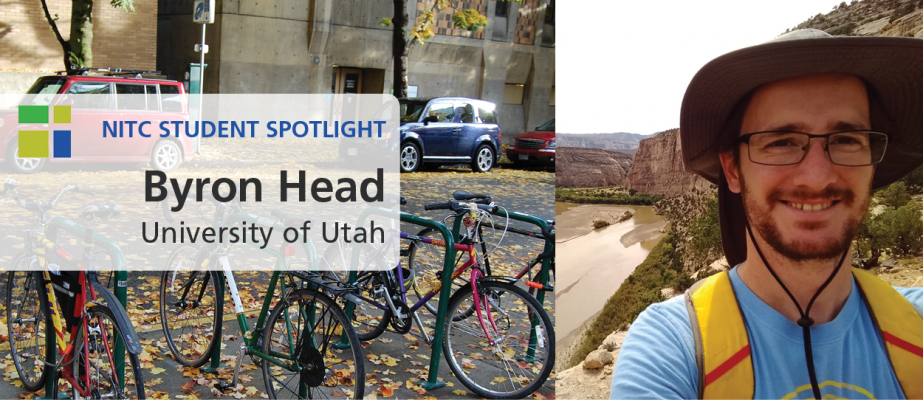 Byron Head is a masters student in the department of City and Metropolitan Planning at the University of Utah. His focus is on active transportation and transportation demand management, and he is joining the University of Utah's sustainability office as the first Sustainability Graduate Assistant. Prior to beginning the masters program at UU he worked for the Tennessee Department of Transportation as a transportation program monitor. 
---
Tell us about yourself?
It's been quite a winding road for me to end up in the world of transportation planning. I went to Ole Miss for my undergrad in International Studies and Arabic because I thought I wanted to join the Peace Corps. Then I thought I wanted to be an English teacher, then a biologist. Eventually, I stumbled across a TDOT job posting in the Division of Multimodal Transportation Resources and thought to myself, "Multimodal? That means, like, bikes and buses and walking, right? I like riding my bike!" And that's how I ended up working for TDOT, which eventually led me to the University of Utah.
I'm in my first semester of the Master of City and Metropolitan Planning program at the University of Utah. Outside of work and school, I enjoy cycling and playing Ultimate Frisbee. Since I've moved to Utah, I'm trying to get better at cycling up mountains because we don't have those in Tennessee. I'm also hoping to do more camping so that I can eventually start doing bikepacking.
What motivated you to return to graduate school after working for TDOT, and why did you choose the University of Utah?
My job at TDOT was the first time I ever thought about transportation from any perspective other than that of a user. My eyes were opened to how complicated and intricate the process to build something as simple as a sidewalk truly is. Throughout my time at TDOT, I gained a lot of knowledge and experience on the administrative side of things, but I never had the opportunity to develop any technical or analytical skills. Moving forward, I want to do the analysis that goes into all the planning documents that I used to review, and I felt planning school was the best way to accomplish that.
As for how I chose the University of Utah, I also viewed planning school as a "vehicle" to move to a different part of the country. I spent almost my entire life in Tennessee and Mississippi, so when I first started looking at grad school, I looked up programs that are in cool places outside of the south. Salt Lake City checks a lot of boxes for me because it has a great transit and bike network, it is close to several national parks, it is nestled right up against the mountains, and it has real snow. When I came to visit campus at the end of March, I woke up to 8" of snow on my first day, which kind of blew my mind. Then I met several of the faculty, and I knew that the program was just as great as the city.
You are joining the University of Utah's Sustainability Office as a Sustainability Graduate Assistant. Tell us about the focus of your work there.
My position in the Sustainability Office is a combination of two separate roles. In the past, the office has had an undergraduate intern to do various field operations work, such as conducting a bicycle utilization survey, managing the campus' active transportation facilities inventory, and planning for various campus events. That will be one part of my work. My other job is a new role to develop a recommended method for the comprehensive collection of campus commute data that allows for year-over-year comparisons. In the past, the university has done a self-reported survey. I will be exploring other options available to us, considering what data is important to the various offices on campus, and making a final recommendation. I will then (hopefully) be responsible for implementing that recommended method.
After graduation, what future work do you envision doing in transportation?
I haven't worked out the specifics, but my two biggest interests are in active transportation network planning and transportation demand management. Both of my parents have worked for the state of Tennessee for their entire careers, as I did for two and a half years, so the public sector is what I'm most familiar with, but I'd like to work on a local, rather than state, level. I could see myself as a transportation planner, bicycle and pedestrian coordinator, or TDM program manager for a city, county, or MPO. I wouldn't rule out working in the private sector, since I know a lot of the technical work that I'm interested in is contracted out to consultants. Working for a non-profit in advocacy is also an option. Basically, I have no idea.
This is an installment in a series of monthly Student Spotlights we're shining on students and alumni that are involved with National Institute for Transportation & Communites (NITC) universities. NITC is a university transportation consortium funded by the U.S. DOT, and is a Portland State-led partnership with the University of Oregon, Oregon Institute of Technology, University of Utah, University of Arizona, and University of Texas at Arlington.
Share this: