Student Spotlight: Corrie Parrish, University of Oregon
Posted on February 4, 2019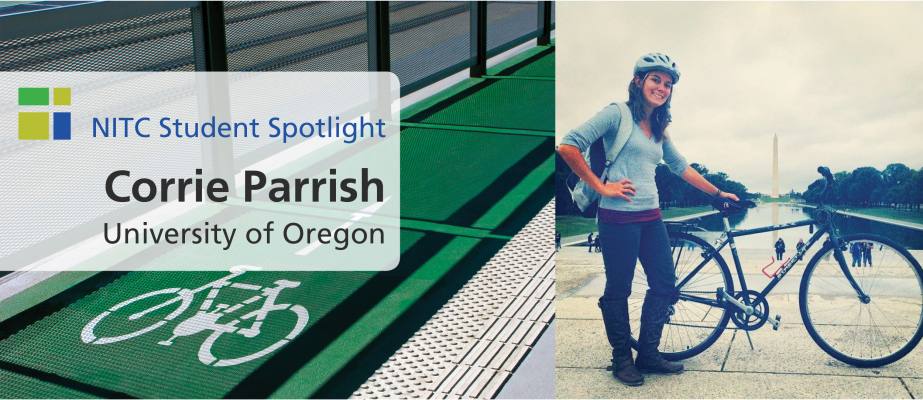 Corrie Parrish, University of Oregon
Corrie Parrish is a masters student in the community and regional planning program at the University of Oregon (UO). She is the current president of LiveMove, UO's transportation and livability student group, as well as the Equity Initiative graduate employee for UO's School of Planning, Public Policy, and Management (PPPM). She has also worked as an outdoor recreation assistant and naturalist assistant for Five Rivers MetroParks in Ohio, and as an outreach and project coordinator for the U.S. Fish and Wildlife Service in New Mexico.
Update (March 2019): Recipient of the Eno Future Leaders Award
Corrie Parrish has been selected as one of 20 of the nation's top graduate students in transportation and will take part in the prestigious Eno Future Leaders Development Conference, taking place in Washington, DC, June 2 – 6, 2019! The Future Leaders Development Conference provides a first-hand look at how transportation policy is developed and implemented. Corrie and others will meet with top government officials, leaders of associations, and members of Congress and their staff. Throughout the week, she will see how the nation's transportation policies are debated, shaped, formed, and ultimately adopted and applied. Upon completion of this intensive program, Corrie should be better equipped to understand the policy-making process that will become increasingly more important
---
Tell us about yourself?
​I am a second year Community and Regional Planning Masters student, and am also working on a certificate in nonprofit management. Prior to graduate school, I worked on active transportation projects around the U.S., mainly on bike trail development. I chose to pursue graduate studies at the University of Oregon because of its experiential learning opportunities. We take skills we've learned in the classroom, and apply them in real-world projects around Oregon. In my free time, I love to play my guitar, explore the outdoors, and hang out with family and friends.
What has influenced your path in transportation?
Growing up in Pittsburgh, my mother did not have a driver's license until I was in middle school. Public transit in the city was also poor, so my mother would walk everywhere with my twin brothers and me, instructing us to hold onto the guardrail for safety. Besides the obvious risks of nearby speeding cars, our poor transportation access made us vulnerable in other ways; one night, for example, my mother was robbed walking from the restaurant where she worked. While we cannot control unfortunate actions like what my mother experienced, we can create and expand infrastructure within our transportation systems to make our cities safer to navigate, which will lead to healthier and happier communities.
As for bikes, I didn't learn how to ride one until I was nine years old. Biking has been a form of commuting since then though, whether it be over to a friend's house or going to work. I want to make active transportation, in particular, more accessible and safer too. 
How has being president of the student group LiveMove impacted you?
Being the president has helped me build and refine my leadership skills. So far this year we've held two speaker series; supported a redesign project of 13 Avenue, the main thoroughfare going through our campus; and sponsored several events coming to campus. We have a great ByDesign project this year to compliment the thoroughfare redesign, making Eugene a better place to live and move in. We have some new speakers coming up, and we'll be hosting our first "Spread the Light" bike ride later this month to give out lights to the lightless. I'm particularly proud of our leadership team; we have an amazing group of students leading this group with me. 
How are you preparing for a career after graduation?
Networking! I say that jokingly but it's also true. Those who know me know I'm a networking queen. I'm also considering going for my PhD next. I've been doing research and working on a variety of projects that is giving me a taste of what that could look like. If I go for that path, I'd be the first in my family to do so. 
---
This is an installment in a series of monthly Student Spotlights we'll be shining on students and alumni that are involved with National Institute for Transportation & Communites (NITC) universities. NITC is a university transportation consortium funded by the U.S. DOT, and is a Portland State-led partnership with the University of Oregon, Oregon Institute of Technology, University of Utah, University of Arizona, and University of Texas at Arlington.
Share this: