Student Spotlight: Finley Heeb and Maddy Reznick, University of Oregon
Posted on March 3, 2020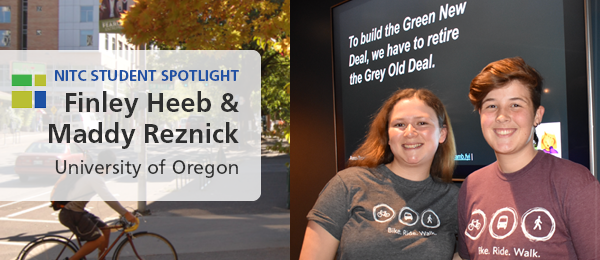 Finley Heeb and Maddy Reznick are both undergraduate students in the  School of Planning, Public Policy and Management (PPPM) at the University of Oregon. They are both active in the UO's transportation student group, LiveMove, and have worked together as LiveMove's speaker series coordinators for the past two years. Finley was recently featured in a Student Spotlight story in UO news, recounting what they gained from their participation in the summer 2019 Sustainable Bicycle Transportation in Europe study abroad program with faculty Marc Schlossberg and Rebecca Lewis. Maddy was an intern in 2019 at the Los Angeles Regional Collaborative for Climate Action and Sustainability, working with a team of University students to collect and present case study research supporting implementation of a TDM Ordinance in Los Angeles County to the Chief Sustainability Office of LA County.
Finley's LinkedIn | Maddy's LinkedIn
---
Tell us about yourself? 
Finley: I am in my third year of the Planning, Public Policy, and Management program at the University of Oregon. Learning about cities, transportation, and communities has influenced every aspect of how I interact with where I live. Now, I spend much of my time exploring the city on the hunt for adventures with my trusty pup and close companions. Whether I'm traveling by bike, bus, or foot, I always have a good tune playing.
Maddy: I am a 4th year student in the University of Oregon's Planning, Public Policy, and Management program. In the classroom, I am infatuated with cities, communities, and ways to inspire more unity in these spaces. In my freetime, I am a lover of the outdoors, live music, and tasty new dishes. You can sometimes catch me singing in the rain.
Tell us about the work you've done together for LiveMove, and describe the strengths each of you bring to the work? 
As speaker series coordinators, we have had the adventure of planning LiveMove's annual speaker events. The work has exposed us to the awe-inspiring professionals in the field and all the work that they do. We structured this year's series, "Breaking Status Quo," around car-centric culture. We have found success by incorporating new ways of challenging the community's notions about the transportation systems that move them! Its been quite a rewarding journey, working with passionate community groups and members. 
We have made a great team over our course of working together because we share a passion for our projects. We get to find speakers to come and present on the change they are making in their communities and share that inspiration with our community. Another of our strengths is that we understand the systems of transportation planning as they are and we can highlight how people are maximizing progress within this framework. This helps our community learn about the most effective ways of making a difference. Through the work we do, we help people understand the systems around them and how to better engage with how they move. 
After graduation, what future work do you envision doing in transportation?
Finley: After graduating, I hope to find work as a transportation planner in a city government so I can continue to make cities more accessible and environmentally sustainable. Our cities have so much potential and I want to help our transportation systems move towards prioritizing people rather than cars.
Maddy: After I graduate in June, I plan to continue working closely with communities advocating for climate action. I mentioned I am infatuated with urban spaces and view them as a crucial place we must "get right." I plan to work my way into the policy realm, understanding and advocating for rightful change within our policy system that prioritizes sustainability, transportation options, and social cohesion. I can't wait to begin!
This is an installment in a series of monthly Student Spotlights we're shining on students and alumni that are involved with National Institute for Transportation & Communites (NITC) universities. NITC is a university transportation consortium funded by the U.S. DOT, and is a Portland State-led partnership with the University of Oregon, Oregon Institute of Technology, University of Utah, University of Arizona, and University of Texas at Arlington.
Share this: