Student Spotlight: Gabby Abou-Zeid, Portland State University
Posted on February 5, 2020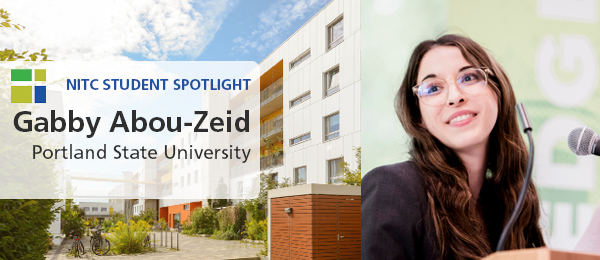 Gabby Abou-Zeid is a first-year civil engineering graduate student, 2019 Eisenhower Fellow and recipient of the 2019 IBPI Rex Burkholder and Lydia Rich Scholarship. She is pursuing her M.S. at Portland State University and working with Dr. Kelly Clifton's SUPER (Sustainable Urban Planning & Engineering Research) Lab. She received her BS in sustainable built environments from the University of Arizona in 2019, and plans on pursuing a PhD in a transportation-related field after her master's program. Prior to coming to PSU, she conducted research with Dr. Clifton through the Transportation Undergraduate Reearch Fellow (TURF) program*. Gabby will present her work on the demand for freight at multifamily apartment buildings on February 14 in a Friday Transportation Seminar at Portland State.
Watch an interview with Gabby about her research at University of Arizona on Walkability in Tucson, Arizona.
* Interested in the TURF program? Sign up to be notified when TURF applications open for 2020.
---
Tell us about yourself?
I am in the second quarter of my Master's in Civil Engineering program at Portland State University, with a background in sustainable community planning. Born and raised in Tucson, AZ, I moved to Portland in August 2019 to pursue my graduate studies after graduating with a B.S. in Sustainable Built Environments from the University of Arizona (UA). My path to this point has not been linear – I started my undergraduate career first as a women's and gender studies major, then a chemistry and math major, before finding my undergraduate program in UA's College of Architecture, Planning, and Landscape Architecture. Outside of the office, you can usually find me at home watching The Office, baking (and usually eating) something sweet, or exploring Portland. 
What (or who) has influenced your career path in transportation?
In the summer of 2018, I participated in the Transportation Undergraduate Research Fellowship (TURF) program at Portland State University funded by the National Institute for Transportation and Communities (NITC). This experience expanded my understanding of transportation and its links to the built environment, policy, land use, and engineering. I was privileged to work alongside Dr. Kelly Clifton and her SUPERLab team on a Caltrans-sponsored project examining the transportation impacts of affordable housing developments. Women made up the majority of our project team and offered me invaluable mentorship. Dr. Clifton's work in transportation engineering, planning, and education made me think about the connections between the two fields in new ways. Beyond the intellectual stimulation I've found in this research, working with the SUPERLab team fulfills an even more important necessity for me: our work is directly related to trying to improve people's lives.
Tell us about the research you completed at the University of Arizona, and the work you're currently focused on at Portland State University?
After the TURF program ended, I continued to work with members of the SUPERLab team, including Dr. Clifton at PSU and Dr. Kristina Currans at UA. I humbly acknowledge that all of my accomplishments since are in large part due to the incredible support and mentorship from this team. Prior to participation in the program, my professional self-confidence was seriously lacking. Empowered by my time in the TURF program, I completed my senior capstone on walkability in Tucson, AZ – a project which I'm really proud of. I've presented three conference presentations at the Transportation Research Board's 98th and 99th Annual Meetings. Most recently, I was honored to be selected as the Dwight David Eisenhower Transportation Fellow Program as the 2019 Top Ranked Masters Fellowship Fellow. Currently, I'm working with the SUPERLab team to wrap up a trip generation and freight project for the Portland Bureau of Transportation. It all goes to show the importance of good educators, whom I have been so lucky to work with and learn from. 
After earning your Masters in Transportation Engineering, what future work do you envision doing in transportation?
I like research at the intersection of transportation planning and policy. My work with the SUPERLab team enabled me to see transportation as an important link between human-centered engineering and planning, as well as the importance of research-based policy. Yet, there is much uncertainty across these fields regarding future transportation systems in a time of rapid technological change, pressing environmental concerns, and pervasive inequities. Ultimately, I want to earn my PhD focusing on planning for future transportation systems and evaluating their impacts on people, the environment, and cities. This would allow me to work in academia, where I could teach in addition to conducting research centered on new mobility, a career path that integrates my diverse set of interests. A big personal motivation to work in academia is centered around paying forward the immense support others in the transportation field have given me in my journey to this point.
This is an installment in a series of monthly Student Spotlights we're shining on students and alumni that are involved with National Institute for Transportation & Communites (NITC) universities. NITC is a university transportation consortium funded by the U.S. DOT, and is a Portland State-led partnership with the University of Oregon, Oregon Institute of Technology, University of Utah, University of Arizona, and University of Texas at Arlington.
Photo credit: ah_fotobox/iStock
Share this: