Student Spotlight: Hanna Hutcheson, University of Utah
Posted on November 30, 2020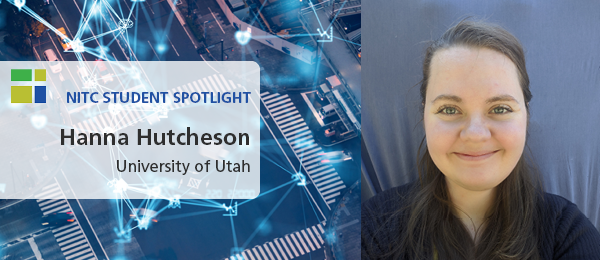 Hanna Hutcheson is a second-year Masters of City and Metropolitan Planning student at the University of Utah. Her specialization is in Transportation and SMART Growth, and she is passionate about increasing accessibility to transit, designing cities to be more pedestrian and cyclist friendly, and improving environmental conditions through planning. Hanna also works as a graduate teaching assistant, and in the summer of 2020 she completed an internship with the Volpe National Transportation Systems Center. 
---
Tell us about yourself?
Hi! I'm originally from Eugene, OR, but I got my undergraduate degree in geography from BYU and have been living on and off in Utah ever since. I'm in my second year of the MCMP program at the University of Utah, focusing on SMART growth and transportation; my passion lies specifically with transit and, to a lesser degree, active transportation and complete streets. Outside of school, I'm a big fan of reading, Netflix, '80s music, and embroidery.
What (or who) has influenced your career path in transportation?
I have to give a shout-out to Ted Knowlton, the deputy director of the SLC region's MPO, for really sparking my interest in transportation. I'm currently transit-dependent, and Ted's intro to transportation class helped me clarify and better understand the issues I didn't even realize were bothering me, such as walkability and the first/last mile problem. It was really exciting for me to be able to put a name or concept to things I'd been dealing with for years, and even more exciting to realize that there were actually ways to address these issues.
You worked as an intern at the Volpe Center; tell us about that experience?
In the summer of 2020 I got the opportunity to participate in the Department of Transportation's Student Transportation Internship for Diverse Groups (STIPDG) program. I was lucky enough to get matched with Volpe, the National Transportation Systems Center, which provides research and expertise to other agencies within the DOT. This meant that I got to be part of a wide variety of different projects, including creating freight planning modules for national highway division offices to use as teaching tools, participating in a leadership seminar held for the Puerto Rico FHWA division office, and working on an asset management project for the Federal Transit Administration. I loved this experience because I got a taste of many different projects, and I also learned about planning on the federal level, something I haven't learned a lot about in my classes.
After graduation, what future work do you envision doing in transportation?
After graduation, I'm leaning toward continuing to work with the Department of Transportation in some capacity, hopefully with Volpe, the Federal Highway Administration, or the Federal Transit Administration. I really liked the very macro-level planning I engaged in during my internship, as well as the variety of projects I worked on, and I hope to be able to continue on a similar path in the future. I also enjoyed the practical research and teaching side of things I worked on at Volpe, so if I'm unable to get a federal-level job I would like to continue working on similar issues, perhaps at the state or regional (MPO) level. Of course, I would be happy to work on transportation planning at any capacity, so I'm definitely not ruling anything out!
This is an installment in a series of monthly Student Spotlights we're shining on students and alumni that are involved with National Institute for Transportation & Communites (NITC) universities. NITC is a university transportation consortium funded by the U.S. DOT, and is a Portland State-led partnership with the University of Oregon, Oregon Institute of Technology, University of Utah, University of Arizona, and University of Texas at Arlington.
Share this: