Student Spotlight: ITE Student Chapter President Sheida Khademi, University of Texas at Arlington
Posted on July 24, 2018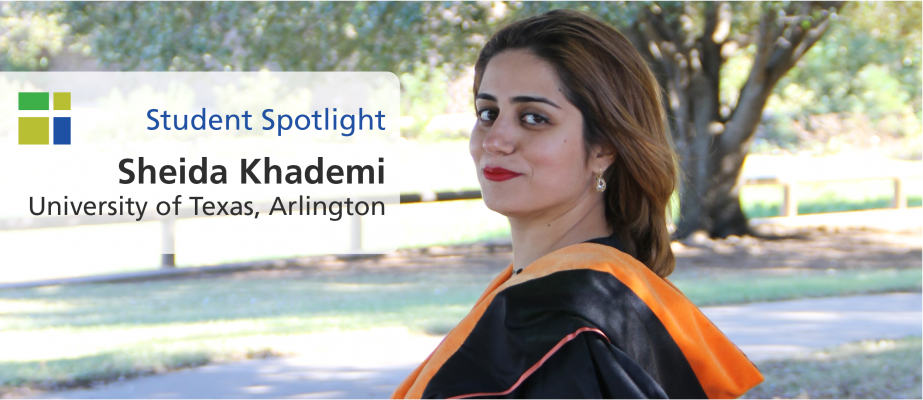 Sheida Khademi, University of Texas at Arlington
ITE Student Chapter | LinkedIn
---
Tell us about yourself:
I was born and raised in Iran, and I have experienced many restrictions that exist for women. My role model has been my mother; she played a pivotal role in helping me overcome challenges in achieving my goals. My family has always valued a good education and we have a deep belief in the power of women to find their way in society. I achieved a top 1% score in one of the most competitive and demanding schools in my country, in a male-dominated major. During my undergraduate years, I found that I have a deep interest in research, with a strong motivation and aptitude for it. I started my master's degree in transportation engineering at University of Texas at Arlington (UTA) in Fall 2015, and started my PhD in the Fall 2017 semester.
What has influenced your path in transportation?
My undergraduate studies gave me a sound technical base. I chose to pursue my interest in the integration of land use and transportation and equip myself with a knowledge-base of this and related fields. I am interested in transportation because a formal and rigorous mathematical approach can be used to identify problems and model solutions. I believe that a strong and thorough background as well as a complete awareness of recent developments is essential for an intellectually stimulating and satisfying research career.
How has being involved with the ITE Student Chapter of UTA impacted you? Anything you're particularly proud of accomplishing with this group?
I joined the ITE Student Chapter when I started at UTA in Fall 2015. I was elected treasurer that semester, and am now in my second term as president. I have learned a great deal about leadership in the past couple of years, particularly by organizing the group's travel to Portland for the NITC Conference, to Washington, D.C., for TRB, and Colorado for the summer joint WesternITE and TexITE meeting. I also organized and trained our Traffic Bowl team for the summer meeting. In addition, our student chapter has enhanced the education of the students through meetings with professional speakers and field trips. Through these experiences, I have developed leadership skills which I plan to nurture in the future. It has been my pleasure to receive awards during my presidency from the Dallas-Fort Worth WTS, TexITE (Texas District of ITE), Dallas Section of ITE, UTA Alumni Association, Fort Worth Branch of ASCE, and the UTA grad school. In addition, I received the Student Poster Contest award at the Transportation & Communities Summit (Portland, OR, 2017) and was recognized as an Outstanding Graduate Student by the Civil Engineering Department at UTA. 
How are you preparing for a career after graduation?
By taking classes and writing my NITC-funded dissertation "Modeling Highway Capacity and Level of Service for High-Volume Freeways: Multiple Weaving Areas", I am laying the academic foundation for my future. I plan to continue learning through further research and publication. I have taught undergraduate labs and hope to be able to teach a class or two as a PhD student to help prepare me for an academic career. Such a career will enable me to follow my passion in research, to disseminate knowledge to students, to apply theory in practice, and eventually to benefit society. I plan to be active in professional and technical organizations.  This will allow me to interact with other researchers and professionals that will enable me to stay current in the profession. These activities will include participation in committee work, publication and presentation of my work, and leadership in the organizations. I have presented my work in ITE and in the Transportation and Communities Summit and the Annual Conference on Livable Communities. I regularly attend ITE and TRB meetings.
---
This is an installment in a series of monthly Student Spotlights we'll be shining on students and alumni that are involved with NITC (National Institute for Transportation & Communites).
Share this: