Student Spotlight: Jake Gallaher, University of Utah
Posted on June 4, 2020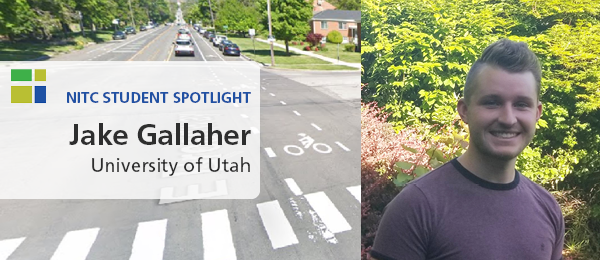 Jake Gallaher is a graduate assistant at the University of Utah's College of Architecture and Planning. He is a leader in Point B, the University of Utah's transportation student group, and his work with that group focuses on improving bicycle safety. Jake earned his B.S. in civil engineering from Ohio Northern University in 2019. In 2018 he served as an engineering intern at SDS Mechanical & Automation.
---
Tell us about yourself?
I am entering my second year in the Master of City and Metropolitan Planning program at the University of Utah. I'm originally from Ashville, Ohio and I received my B.S. in civil engineering from Ohio Northern University in 2019. Shortly after, I picked up from Ohio and moved to Salt Lake City where I've been enjoying hiking around in the Wasatch Mountains and exploring a new city outside of my studies.
What (or who) has influenced your career path in transportation?
Ever since I was a little kid, I could be found studying, or drawing maps. The transportation system as a whole has always been a curiosity of mine and ultimately led me into the field of engineering. Throughout my undergraduate studies, it was pretty clear which facet of civil engineering piqued my interest the most. During a bachelor's program there isn't much room to specialize and I was only exposed to very technical aspects of transportation engineering. Seeking a more in-depth look at what drives transportation decisions led me to enter the planning realm. This has allowed me to see the dynamic relationship between land use and transportation, and just how important it is when planning for smart patterns of growth and development.
You're an officer for Point B and you're heading the group's project to redesign an intersection to improve bicycle safety. Tell us about that work?
Point B is the University of Utah's student group that focuses on transportation. Membership is open to any student at the U, but most of our members are from the City and Metropolitan Planning and Engineering departments. This past school year we have been able to partner with the university to help improve an intersection on the medical campus that sees a lot of pedestrian, bicycle, and vehicular traffic. Our students have conducted field surveys, intercept interviews, mapping, design standard reviews, and have generated some alternatives for this project. Our goal is to provide some viable options that the campus planning, sustainability, and facilities departments can use to make real improvements on our campus. The global pandemic has created some unique challenges for our group as far as collaboration and timelines are concerned. However, we have some students continuing to work on finalizing our project even now that the semester has ended.
After graduation, what future work do you envision doing in transportation?
After graduation, I'm still pretty open to a lot of options but I am hoping to work in regional transportation planning and I am also interested to learn more about travel demand modeling. Ideally, I would love to find a position that allows me to blend the technicalities of engineering with the visionary aspects of planning. Combining land planning and travel demand management with a complete streets and sustainability focus would definitely be enough to keep me busy for my career.
This is an installment in a series of monthly Student Spotlights we're shining on students and alumni that are involved with National Institute for Transportation & Communites (NITC) universities. NITC is a university transportation consortium funded by the U.S. DOT, and is a Portland State-led partnership with the University of Oregon, Oregon Institute of Technology, University of Utah, University of Arizona, and University of Texas at Arlington.
Share this: