Student Spotlight: Jennifer Leslie, University of Utah
Posted on April 1, 2022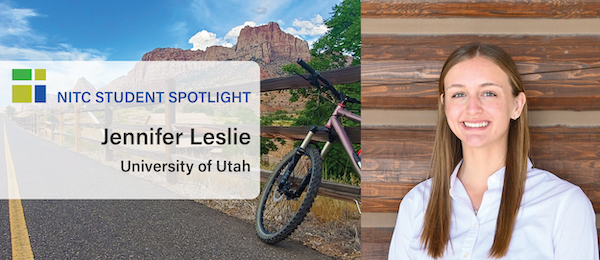 Jennifer Leslie is a City and Metropolitan Planning graduate student at the University of Utah. She earned a BS in Parks, Recreation and Tourism from the University of Utah in 2019, and completed an internship at the National Park Service helping to manage the increasing visitation to parks across the country through collaboration in multi-agency projects. She has also volunteered as a surveyor for the University of Utah's Outdoor Education, Recreation and Tourism Lab. Jennifer is currently working with researchers Kristina Currans and Danya Rumore on a Research Roadmap for the National Institute for Transportation and Communities (NITC).
Connect with Jennifer on LinkedIn
---
Tell us about yourself?
I am a first-year masters student of city and metropolitan planning at the University of Utah. Before graduate school, I studied parks, recreation and tourism at the U of U. I am an environmental advocate and passionate about how natural spaces influence communities. My favorite way to experience the outdoors is through backpacking.
What (or who) has influenced your career path in transportation?
As someone that cares about access to parks and trails, I have been very interested in active transportation and accessibility to green spaces. As I become more involved in the GNAR Initiative*, my interest in transportation has grown to include transportation needs in small towns and those with high-quality natural amenities.
*To better understand these challenges and the experience of gateway communities across the west, researchers from the University of Utah and the University of Arizona conducted an assessment of planning and development challenges in western gateway communities in 2018. The study, which was funded by NITC, involved in-depth interviews with 33 public officials and a survey of more than 300 public officials in western gateway communities and was published in the Journal of the American Planning Association.
You've been working with Dr. Kristina Currans and Dr. Danya Rumore on a NITC Research Roadmap. Tell us about that project?
I have been working with Dr. Kristina Currans and Dr. Danya Rumore on a Land Use + Transportation Research Roadmap. This Research Roadmap is just one piece of a larger NITC effort to understand the work that NITC has already completed and where it should head in the future. I assisted with a literature review of NITC work that focuses on land use and transportation, and interviewed leaders in the field to assess gaps in our knowledge and understand where we should focus research.
After graduation, what future work do you envision doing in transportation?
After graduation, I hope to improve active transportation and access to green spaces. I would love to work in a rural or gateway community, or for an organization passionate about parks!
This is an installment in a series of monthly Student Spotlights we're shining on students and alumni that are involved with National Institute for Transportation & Communities (NITC) universities. NITC is a university transportation consortium funded by the U.S. DOT, and is a Portland State-led partnership with the University of Oregon, Oregon Institute of Technology, University of Utah, University of Arizona, and University of Texas at Arlington.
Photo by Johnworthy/iStock
Share this: