Student Spotlight: Julian Griffee, University of Arizona
Posted on October 25, 2019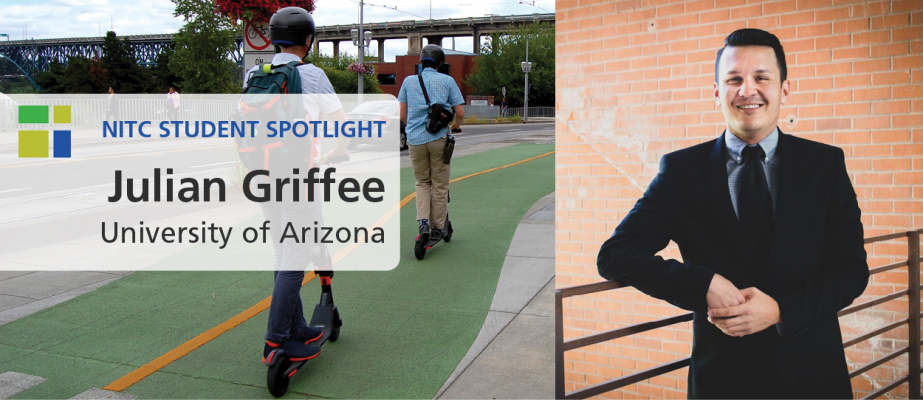 Julian Griffee is a second-year masters student in urban and regional planning at the University of Arizona and a 2020 TRB Minority Student Fellow. He has worked as a planner, volunteered with the Peace Corps in Albania, and worked on bicycle and pedestrian transportation. He is currently a Climate Adaptation Outreach Assistant for the City of Tucson, Arizona.
---
Tell us about yourself?
My name is Julian Griffee, a current 2nd year M.S. Urban Planning Candidate and Paul D. Coverdell Peace Corps Fellow at the University of Arizona. Originally from Wilmington, North Carolina, I received my B.S. in Geography with a concentration in land use planning from the University of North Carolina at Charlotte. Professionally, I have worked as a Planner I, have embarked on a Peace Corps service as an Urban and Regional Planning Volunteer to Albania, have interned within the City of Tucson Department of Transportation Bicycle and Pedestrian Program as well as the Burlington-Graham Metropolitan Planning Organization in North Carolina, and now I am working with the City of Tucson's Planning and Development Services Department where I research climate adaptation policies. During my time with the Bicycle and Pedestrian Program, I assisted in the development of the City's E-scooter Pilot Program, work that ultimately aided me in being selected by the Arizona Department of Transportation as a Transportation Research Board Minority Fellow representative.
What (or who) has influenced your career path in transportation?
For as long as I can remember, I have been extremely interested in urban areas and the different facets that they are comprised of. One primary piece in the urban fabric is transportation, and my interests have slowly but surely gravitated towards this realm of urban development. Ultimately, my interests and passion meet at the intersection of transportation and the environment, with specific interest in sustainable transportation. With the guidance from faculty and the Peace Corps Fellowship Office at the University of Arizona, I have been able to apply that passion and produce tangible results, and I absolutely want to continue to do that. 
You've been working with Dr. Kristina Currans and the City of Tucson on e-scooter rollout and evaluation—Tell us about that research?
Shortly after joining the City, the Bicycle and Pedestrian Program expressed interest in developing a pilot program for this shared, dockless method of transportation. I was tasked to connect with cities around the country that had already implemented some form of program and/or had adopted regulations of e-scooters. I found that many cities were curious to know what other jurisdictions were doing to regulate e-scooters, due to limited publications and information available on adopted policies. Exacerbating this issue was the information that was out there was difficult and cumbersome to find. Expressing this to Dr. Currans, we jointly decided to pursue research on E-scooter regulations and develop a review of policies of the documents that we were able to find. Within the nearly 40 policies that were gathered, each document was analyzed, and common themes, characteristics, and outliers were extracted and reported on. As a Transportation Research Board Minority Fellow, this research is expected to be presented at the Arizona Rural Transportation Summit in October of this year and at the Transportation Research Board 99th Annual Meeting in Washington, D.C. in January 2020.
After graduation, what future work do you envision doing in transportation?
I have been in the public sector since 2015, and within that, I have held two roles in transportation (outreach assistant to the Bicycle and Pedestrian Program, and more recently, an intern with the Burlington-Graham Metropolitan Planning Organization in North Carolina). Serving as a Peace Corps volunteer fostered my interests in non-profit work, and I have a yearning curiosity to explore work with a non-profit and/or think tank organization that advocates for transportation.
This is an installment in a series of monthly Student Spotlights we're shining on students and alumni that are involved with National Institute for Transportation & Communites (NITC) universities. NITC is a university transportation consortium funded by the U.S. DOT, and is a Portland State-led partnership with the University of Oregon, Oregon Institute of Technology, University of Utah, University of Arizona, and University of Texas at Arlington.
Share this: