Student Spotlight: Leif Tuel, Oregon Institute of Technology
Posted on December 7, 2022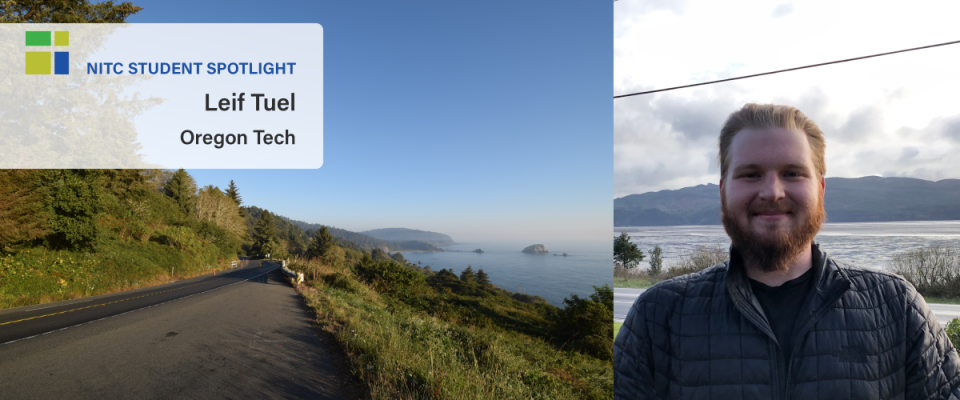 Leif Tuel is an undergraduate student at the Oregon Institute of Technology, studying civil engineering. He is a general member of the ASCE-AGC Oregon Tech Chapter, and has served for two terms as President of the ITE Oregon Tech Student Chapter. During Leif's tenure as the Student Chapter President, Oregon Tech has won two Oregon ITE Traffic Bowl championships. Leif has also worked as a laboratory technician for Carlson Testing, Inc and as a wildland fire suppression specialist for the Oregon Department of Forestry. 
---
Tell us about yourself?
My name is Leif Tuel, I will be graduating with my bachelor's in Civil Engineering from Oregon Tech this March 2023. I love to spend my spare time in the outdoors, hiking, mountain biking, camping or just exploring. Traveling to countries like Germany, Japan, France, and Greece helped expand my view on the world, later guiding me to the world of civil engineering. I am excited to enter the professional world of engineering here shortly!
What (or who) has influenced your career path in transportation?
I always loved the engineering world and knew I wanted to follow that path with my future career. Having grown up in Tillamook, Oregon, where every year we are faced with the summertime tourism traffic along Hwy 101. This annual event led a young me to try and understand why the traffic and our coastal transportation routes were so bad. I then looked into civil engineering and found that I had a passion for transportation engineering. Then with my travels abroad I saw how countries and cities outside the United States dealt with transportation, which opened my eyes even wider.
You're the ITE Student Chapter President (and have led Oregon Tech to two Oregon ITE Traffic Bowl championships!) What are your plans for the group this year?
In the post pandemic world, many ITE chapters were left picking up the pieces of their clubs. Oregon Tech is a much smaller and close-knit school, which allowed us to keep our civil engineering clubs together and active. As the current Oregon Tech ITE Chapter President and a member of four years, I am trying to expand our reach as a club and create new events to deepen our membership and civil engineering department. One such event is to hold our own inter-university quiz style game, to encourage interest in Traffic Bowl while also providing a venue for some fun friendly competition. As a member of our ITE chapter we won two years in a row at the Bill Kloos Annual Traffic Bowl, held for the Oregon ITE sections. I also had the pleasure of competing at the 2022 ITE Western District Student Traffic Bowl, where we placed third overall.
After graduation, what future work do you envision doing in transportation?
Post-graduation, I plan on seeking employment in the public or private field in the Pacific Northwest that focuses heavily on roadway and transportation engineering. I hope to secure an entry level engineering position that will allow me to expand my engineering knowledge with meaningful projects that better connect our cities in a safe manner.
Photo by Ellis Dieperink on Unsplash
This is an installment in a series of monthly Student Spotlights we're shining on students and alumni that are involved with National Institute for Transportation & Communities (NITC) universities. NITC is a university transportation consortium funded by the U.S. DOT, and is a Portland State-led partnership with the University of Oregon, Oregon Institute of Technology, University of Utah, University of Arizona, and University of Texas at Arlington.
Share this: