NITC Dissertation Fellow To Explore How Gender Expression Influences Travel Behavior Decisions
Posted on December 7, 2022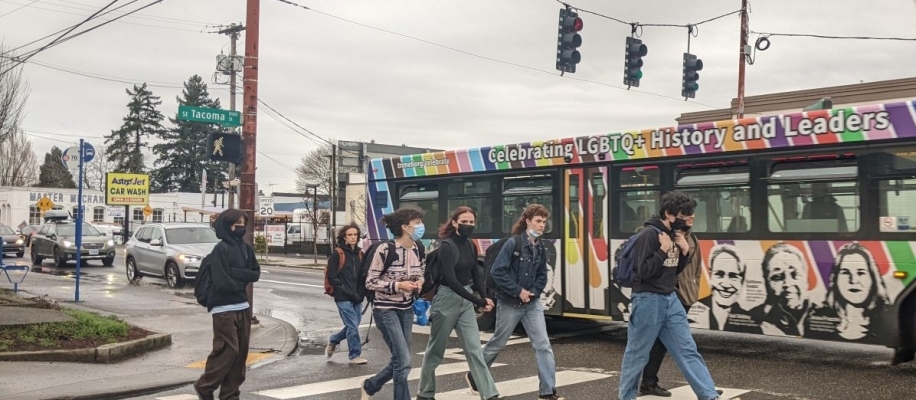 The National Institute for Transportation and Communities (NITC) is proud to introduce our newest Dissertation Fellow, Nicholas Puczkowskyj of Portland State University, who was awarded $15,000 for his doctoral research project: Expanding Transmobilities: An Art-Informed Methodology For Genderdiverse Travel Behavior.
"My dissertation focuses on understanding how genderdiverse individuals' gender identity influences their travel behavior and travel decisions. I use an art-based methodology by operationalizing collage and mental maps to delicately capture these data. I believe this work will support mobility justice research and the greater social justice movement by further solidifying the field of transmobilities. Additionally, this research seeks to push the boundaries of transportation research by illustrating the power of art as a modality for travel behavior research," Puczkowskyj said.
There is a significant gendered travel behavior research gap in the transportation literature. A plethora of transportation literature identifying and contrasting cisgender disparities exists, but more inclusive approaches to genderdiverse identities remain scarce. The burgeoning field of transmobilities investigates transgender mobility and evolved from the nexus of mobility justice and gender studies by studying transgender experiences on public transit.
Nick's dissertation expands transmobilities to include all modes of transportation and experiences involving genderdiverse identities. Using subjective wellbeing as a unit of measure, an art-informed methodology gathers firsthand experiences and narratives of genderdiverse participants in an effort to understand how their gender expression influences their travel behavior decisions. During an interview, 25 participants use collage materials to create art and mental maps reflecting on their experiences making trips through Portland, Oregon. This research hypothesizes gender identity and gender presentation significantly influences a genderdiverse person's subjective wellbeing and travel decisions.

July 2022 Student Spotlight article
, or learn more about
NITC dissertation fellowships
.
Header Photo by Lacey Friedly
The National Institute for Transportation and Communities (NITC) is one of seven U.S. Department of Transportation national university transportation centers. NITC is a program of the Transportation Research and Education Center (TREC) at Portland State University. This PSU-led research partnership also includes the Oregon Institute of Technology, University of Arizona, University of Oregon, University of Texas at Arlington and University of Utah. We pursue our theme — improving mobility of people and goods to build strong communities — through research, education and technology transfer.
Share this: