Student Spotlight: Nicholas Puczkowskyj, Portland State University
Posted on July 13, 2022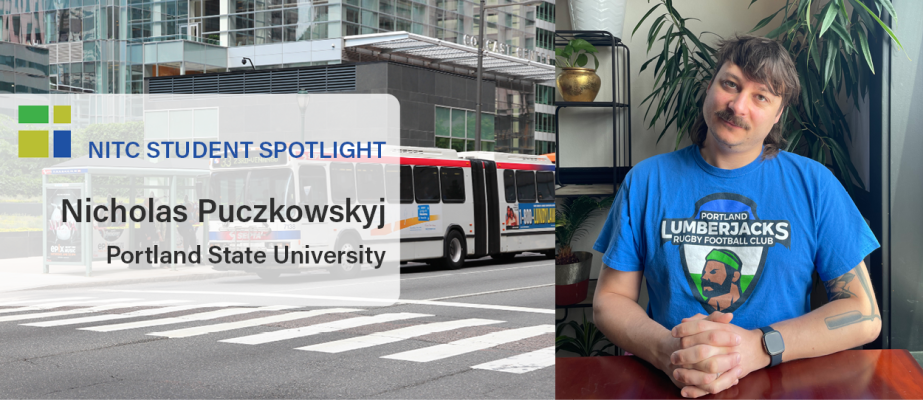 Nick Puczkowskyj is a graduate research and teaching assistant at Portland State University's College of Urban and Public Affairs. He is a current Urban Studies PhD candidate, and has served as past president of Students in Transportation Engineering and Planning (STEP), PSU's transportation student group. He has also worked as a teaching assistant and research assistant at the Chinese University of Hong Kong. Nick's research specializes in transportation equity, focusing on mobility justice, transgender mobility, queer mobility, gender disparities, and marginalized communities. He earned his master's degree in community and regional planning from the University of New Orleans.
Connect with Nick on LinkedIn or view his PSU profile.
Follow Nick on Twitter @NickPuczkowskyj
---
Tell us about yourself?
Currently I'm a 5th year urban studies Phd candidate. Originally from Chicago, I also call Portland and Hong Kong home. Off campus, you can find me on the rugby pitch with the Portland Lumberjacks RFC or foraging Oregon's forests for mushrooms.
What (or who) has influenced your career path in transportation?
Growing up in Chicago and working as a bike messenger provided a massive influence on my career in transportation and urban planning. These experiences really pushed me to go into transportation planning. Working and researching at the Chinese University of Hong Kong solidified my decision to pursue a career in academia.
You're currently supporting a project on marginalized populations' access to transit, and you recently successfully defended your dissertation proposal on "Expanding transmobilities: An art-informed methodology for gender-diverse travel behavior." Tell us about those projects?
Absolutely! My dissertation works focuses on understanding how genderdiverse individuals' gender identity influences their travel behavior and travel decisions. I will use collage and mental maps as my methodology to delicately capture these data. I believe this work will support mobility justice research and the greater social justice movement.
Learn more about the active NITC-funded project "Marginalized Populations' Access to Transit: Journeys from Home and Work to Transit", led by Marisa Zapata of PSU.
After graduation, what future work do you envision doing in transportation?
Ideally after graduation, I plan to secure a tenure track position at a research oriented university abroad, either in Europe or East Asia. Preferably, I would love to continue my dissertation research and add more knowledge to the mobility justice field.
This is an installment in a series of monthly Student Spotlights we're shining on students and alumni that are involved with National Institute for Transportation & Communities (NITC) universities. NITC is a university transportation consortium funded by the U.S. DOT, and is a Portland State-led partnership with the University of Oregon, Oregon Institute of Technology, University of Utah, University of Arizona, and University of Texas at Arlington.
Photo by tupungato/iStock
Share this: